The Mt. Pinatubo Sky Tour (PART 2)
6:01 AM
This is the continuation of a previous blog post. Click here to read the first part:

The Mt. Pinatubo Sky Tour (PART 1)
After taking selfies, our pilot signaled that we're cleared to board the plane. Our soft-spoken instructor handed me guide sheets. He wanted us to participate in the final checkup of the plane for us to feel safe. From the fuel, to the breaks, the several knobs on the pilot's dashboard up to our broadcast headsets, we made sure that everything was working fine. He warned us that the flight could be rough and might cause us seasickness (or should I say, sky sickness?) since we're flying in cloudy skies.
Feeling the plane move reminded me of that the same feeling when I rode a plane carousel when I was a kid. Mushy really but the space inside the plane is just too small you can compare it to theme park rides. After our plane left the grassy "parking" area, we positioned on the narrow runway. The runway looked like the regular street road and it is as narrow as two lanes in EDSA.
After communicating with the controller, Jeff asked us if we were ready. "Are we all ready? Lipad na tayo ha," he said. From take off to the time when we're allowed to remove our seat belts takes about 10 minutes on a commercial flight. But for this flight, 3 minutes and we were already flying horizontally. The climb was steep and fast. Removing the seat belt was not an option of course.
After 5 minutes, we were already flying over Expo Filipino and Fontana Leisure Park. After few more minutes, we already saw the ash-filled canals where lahar flowed during the 1991 Mt. Pinatubo eruption. Touring around Pampanga and Subic several times before never gave me an idea that the damage was huge. It's like five towns were covered in mudflow and I can see why the 1991 explosion is considered by the National Geographic as one of the 10 worst natural catastrophes to be recorded in history.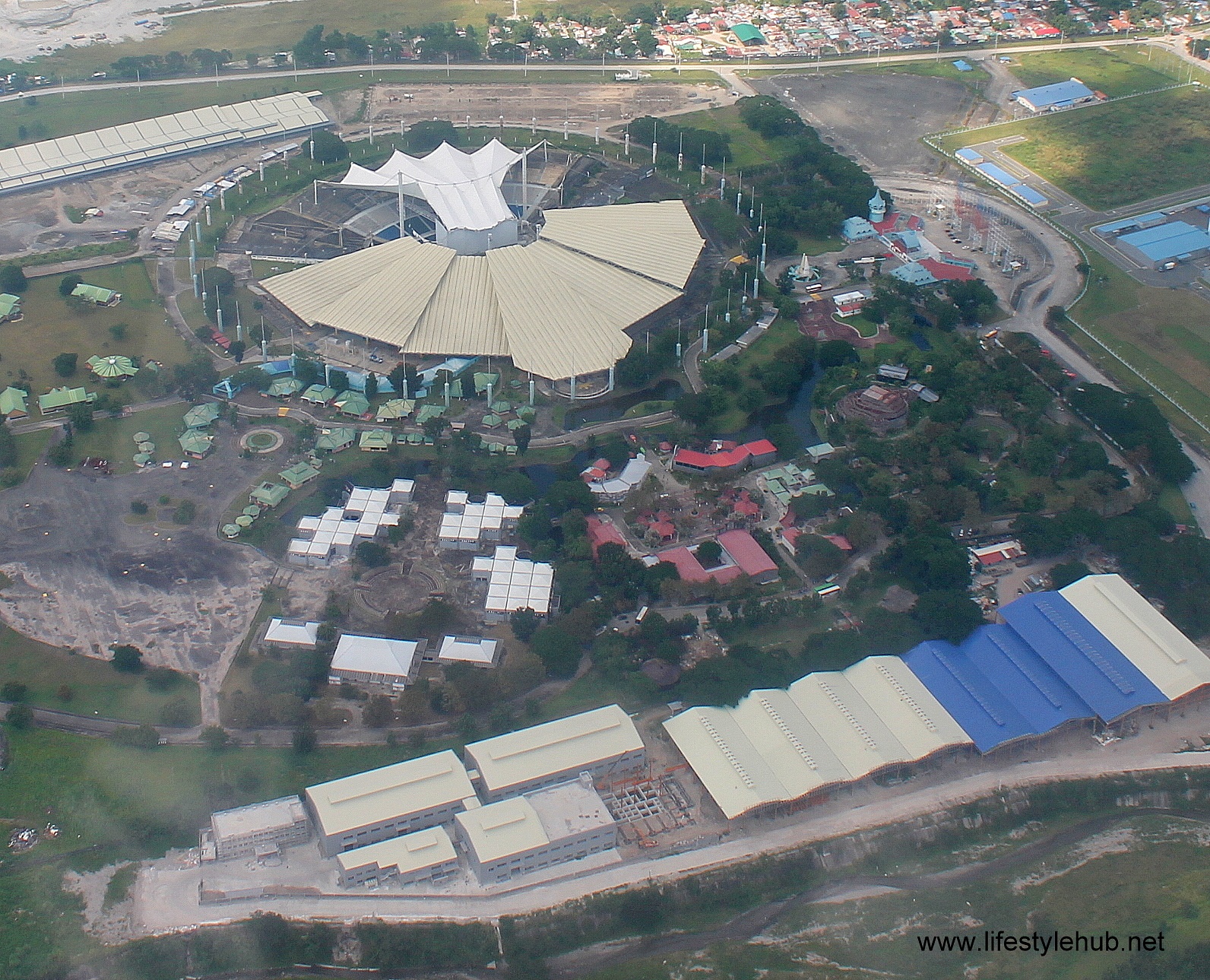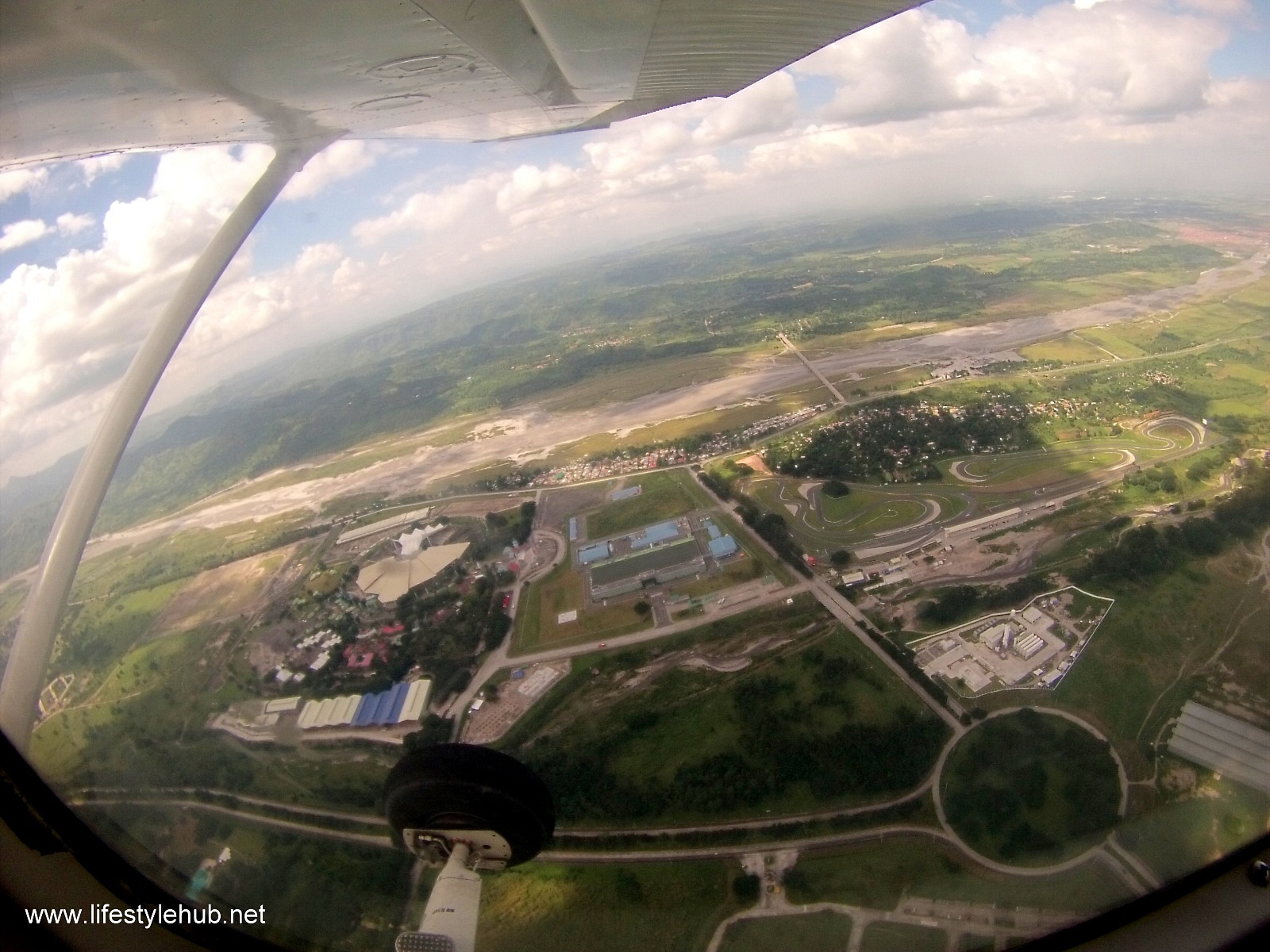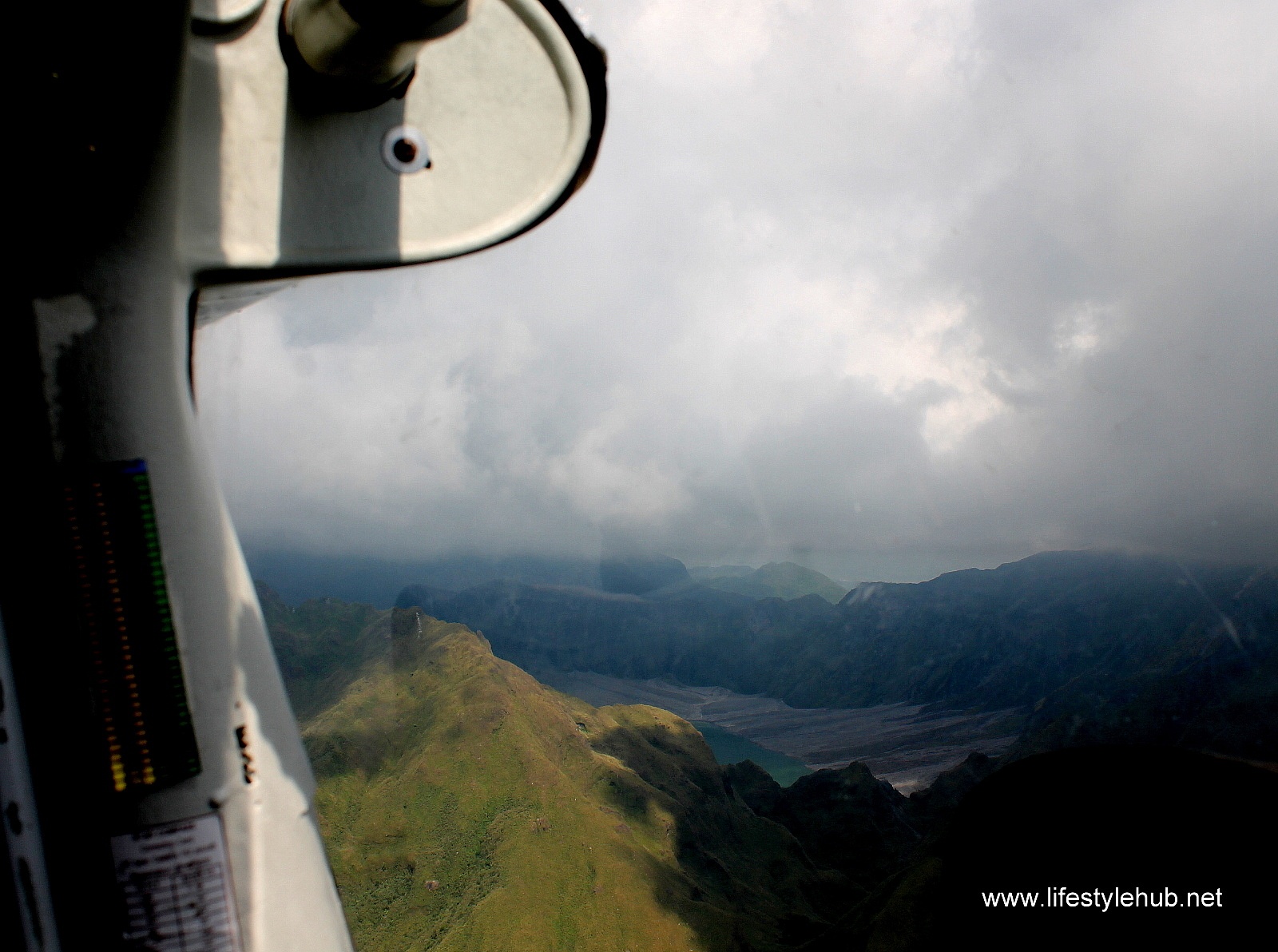 After enjoying the clear portion of the skies, Jeff warned us that we were about to enter a heavily clouded area. I was thrilled but tensed at the same time. The plane's window is 4 times bigger than the windows in commercial flights so you can enjoy the feeling of being inside the clouds. I was expecting a bumpy ride but it was pretty OK. We weren't lucky on the eastern side of Mt. Pintubo as thick clouds covered the crater so our pilot decided to rotate and tried flying over Zambales. After 25 minutes in the air, Jeff became very excited when he told us the exact location of the volcano's crater. And with no exaggeration, I tell you that it was really beautiful.
For those of you who didn't know yet, a lake was formed on Mt. Pinatubo's crater after the volcano erupted on June 15, 1991. It is said to be 330 feet deep and just like the volcano, its coordinates is in the boundaries of the provinces of Pampanga, Tarlac and Zambales. In photos, I always marveled at how blue and beautiful the lake is. From the air, its turquoise water sparkled so calmly. It was very inviting I asked Jeff a silly question if he ever tried landing a plane on the crater. No, of course he replied but a little runway on the crater would be an excellent tourism idea, don't you think?
After nearly 8 minutes of looking at the crater, the ride started to get bumpy so Jeff asked if it's OK to go back to base. Feeling a little tipsy, I said yes. After passing over the Diosdado Macapagal International Airport, our descend started over the crowded area of Clark. It will be impossible for you not to feel discomfort in your stomach as we passed close to roofs and fences before we reached the runway. It was supposed to be that way, I think but the actual touch down was smooth.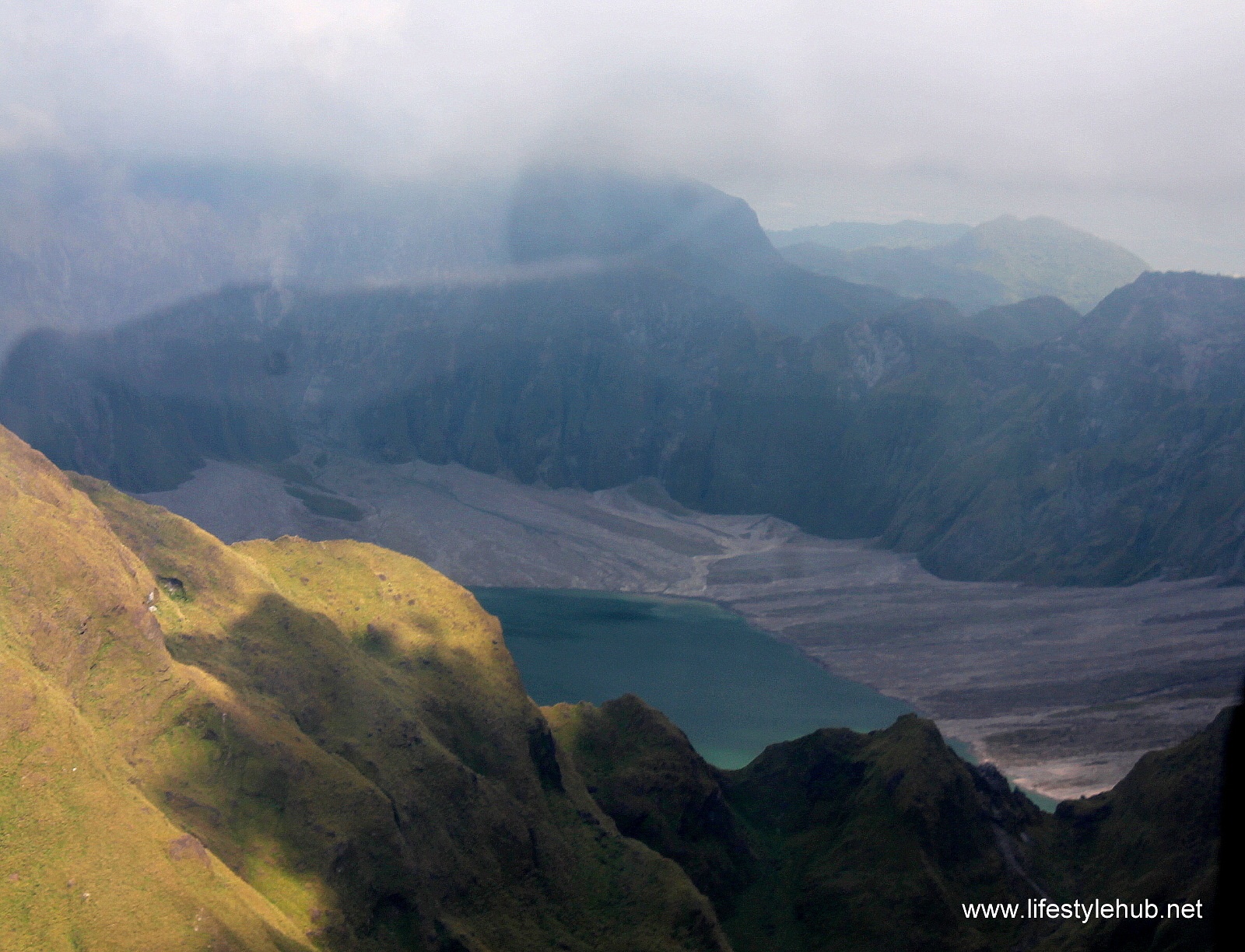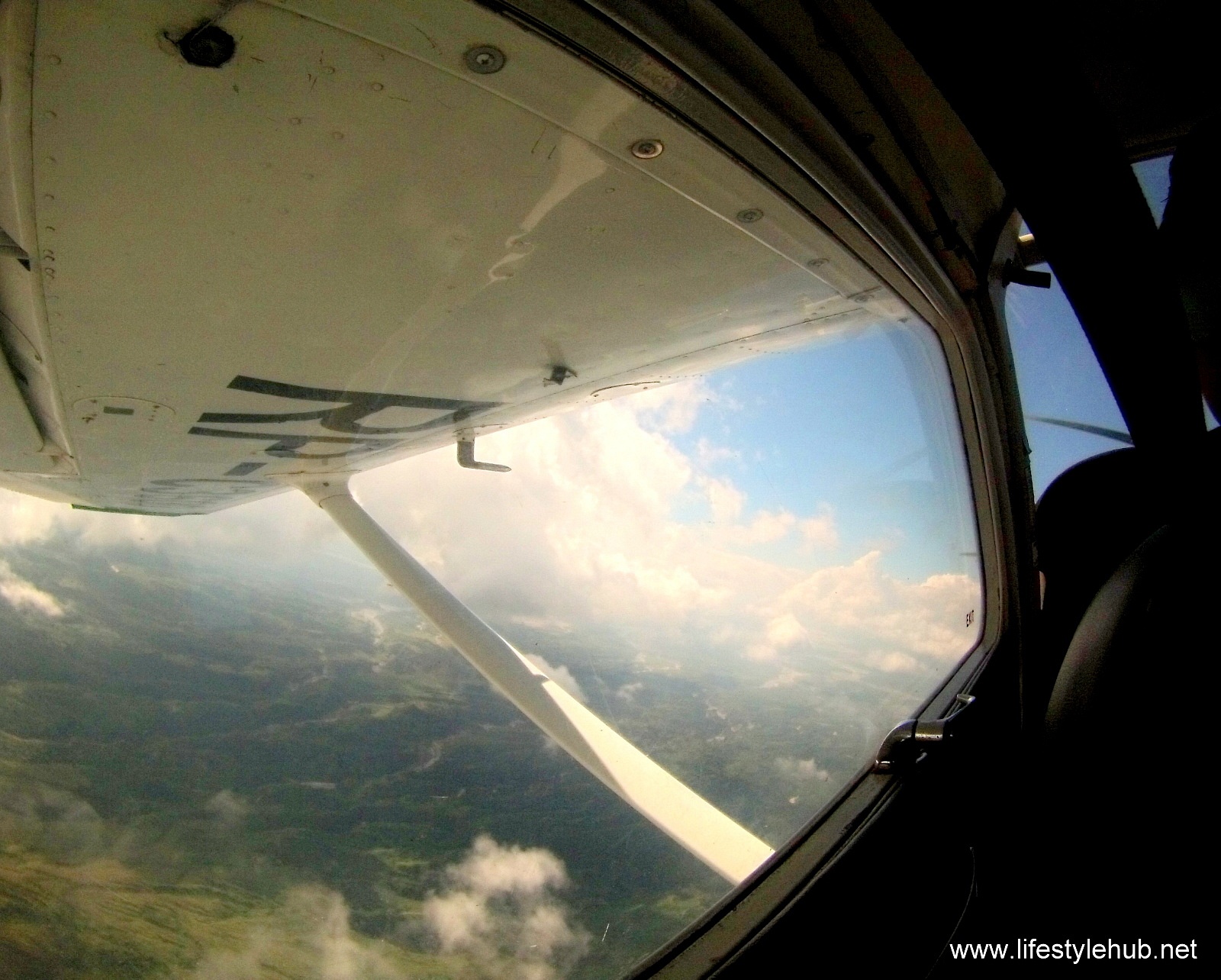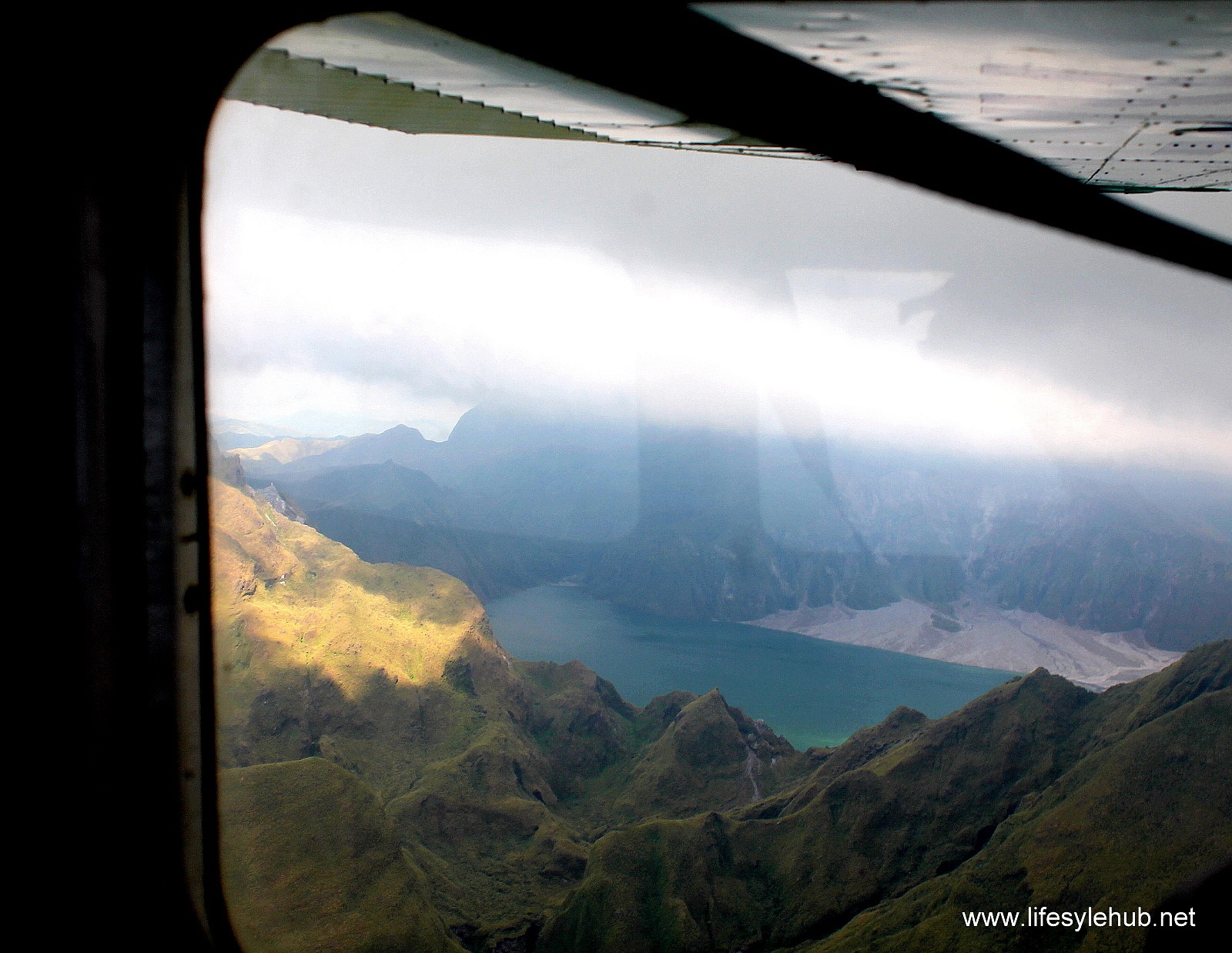 Definitely, one tick off the bucket list!
Thanks Omni Aviation for offering rides like this for civilians to experience how it is like to touch the clouds and actually see Lake Pinatubo. My gratitude as well goes to Zing Rewards, for they not only chose me as the lucky winner of that raffle but for assisting us very well during the entire experience. When you want to try the flight, don't forget to register for a Zing Rewards card so you'll get awesome cashbacks en route to a ride of a lifetime.
If you want to know how Zing Rewards work, click here: Getting Rebates With Zing Rewards.
Meanwhile, it will be hard for me to tell you how to contact Omni Aviation since the great guys of Zing Rewards took everything for me. But here's a nice online resource: Omni Aviation Pinatubo Tour.
Let me say this in advance: Have a nice and safe flight! :)