From online to books, Wattpad stories are now on TV5
6:00 AM
Selfie addicts have Instagram and chismosos have Facebook. I am just overacting. But for those who love writing and reading fiction online, they have Wattpad.
Although extremely popular among teens in the Philippines, Wattpad is actually an international social site which is based in Toronto, Canada and was launched in November 2006. Sharing a bulk of its traffic, apart from the users in the Philippines, are online visitors from the US, UK, Canada and Australia.
The stories used to be all-text. They were given animated sketches by publishing companies. Now, TV5 will add real personalities to these fictional romances with its weekly mini-series on primetime, Wattpad Presents. Ritz Azul and Edward Mendez will be portraying the major characters in "Savage Cassanova" from October 27 to 31.
Why am I talking about Wattpad? This is probably one huge site online marketers should be looking into. I was told, or my sources could be wrong, that the teen group who shaped Wattpad's strong following in PH is the same set of people who are setting trending topics on Twitter, viral videos on YouTube and capable of filling the SM Arena for the upcoming One Direction concerts.
What's making Wattpad interesting also are the published contents that can provide money for companies who are interested in them. Like the movie adaptation of "Diary Ng Panget" which gave Viva Films the only non-Star Cinema blockbuster movie this year, so far. Not sure if Wikipedia is accurate, the movie earned PhP119.5 million, the 6th highest amongst local films for 2014 and the highest for a film not produced or co-produced by Star Cinema.
After Diary ng Panget, another adaptation from a Wattpad story, Talk Back and You're Dead also performed decently in the box office with PhP77 million. Of course, the biggest Wattpad story-turned-movie of them all is Daniel Padilla and Kathryn Bernardo's "She's Dating the Gangster" which raked in PhP254.4 million. Not bad first three attempts for Wattpad exports which are all in the Top 10 of the most watched Filipino movies for 2014.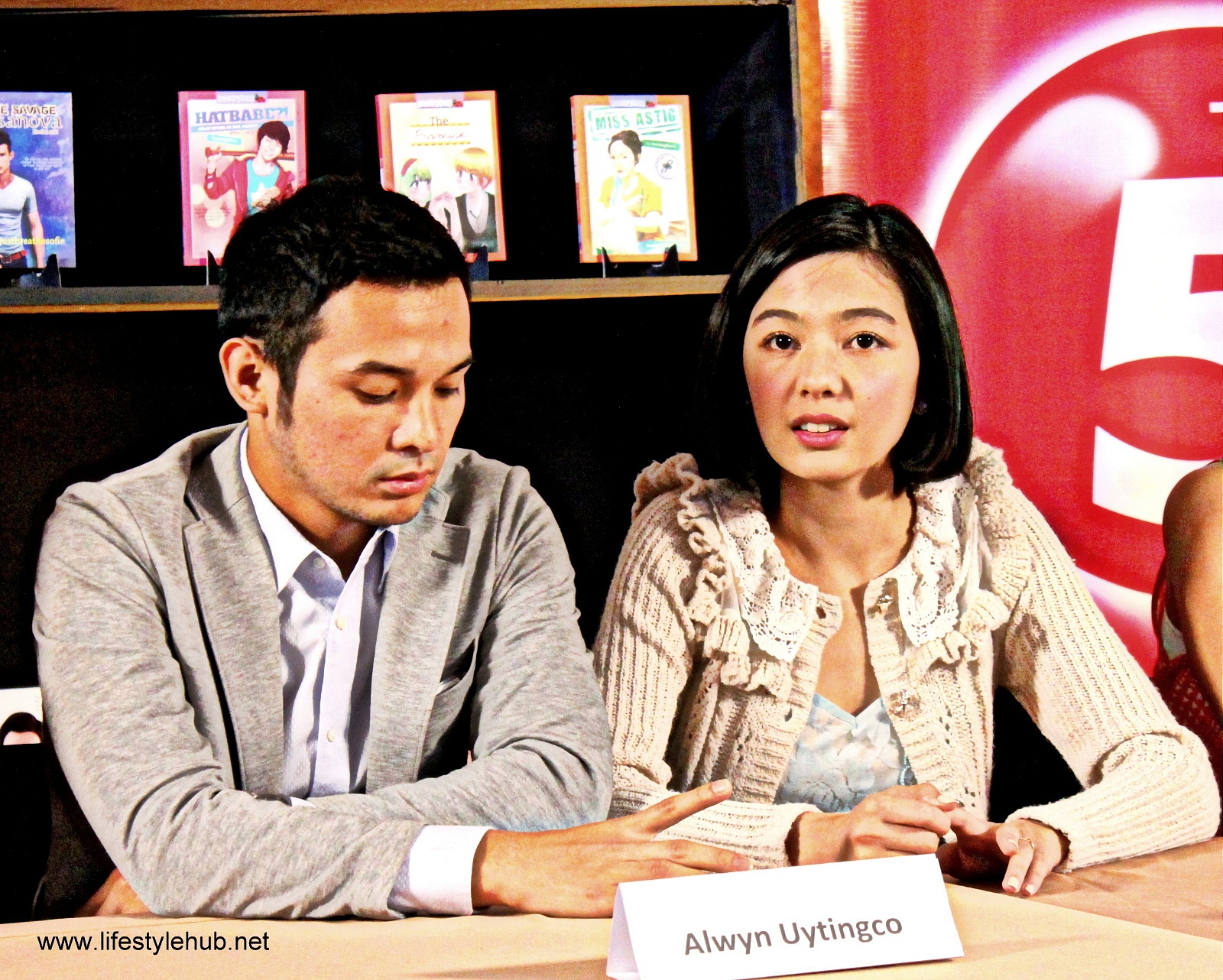 Alwyn Uytingco and Jennica Garcia for DyepNi (October 20 to 24)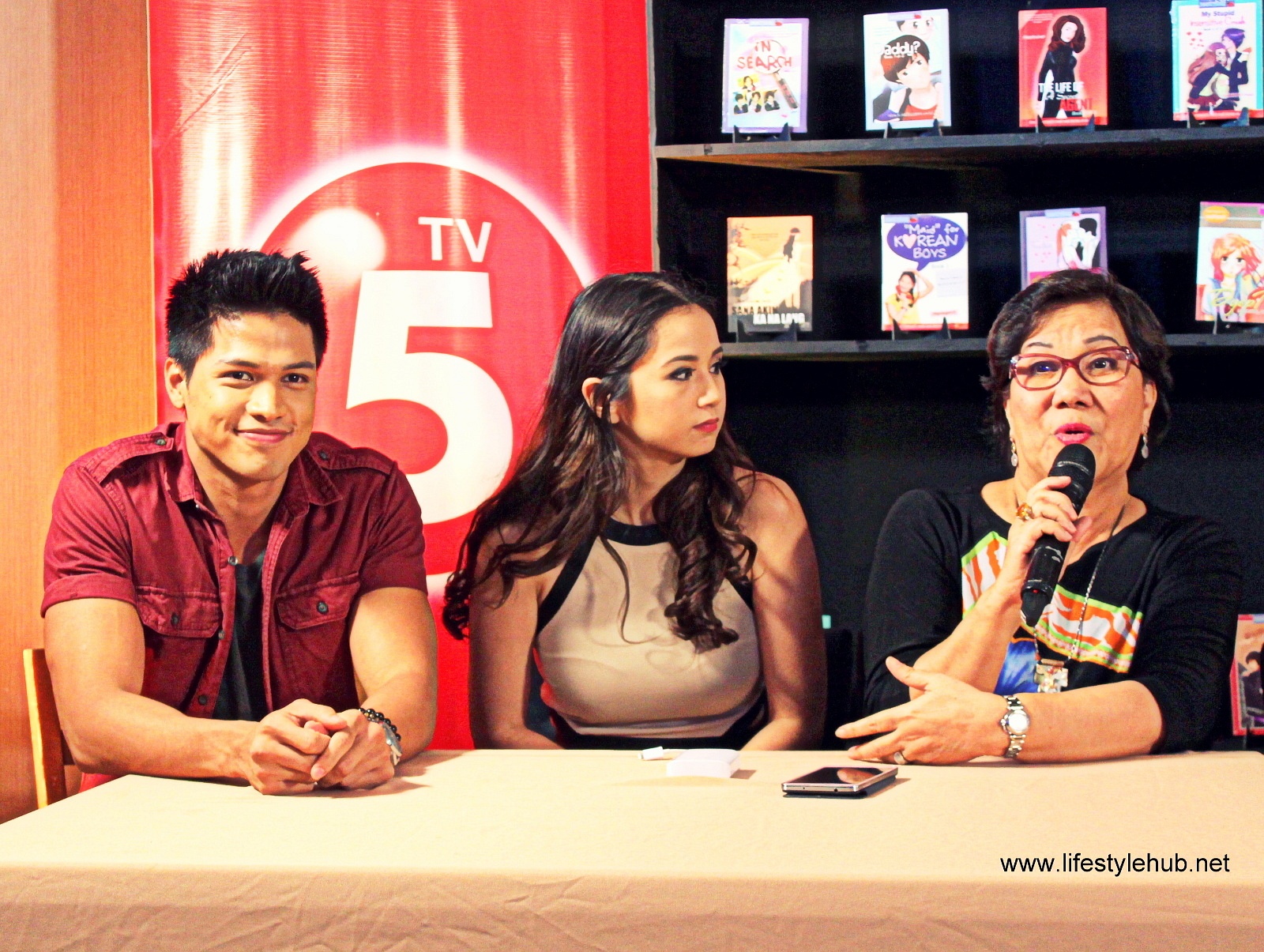 Vin Abrenica and Sophie Albert for Fake Fiance (November 3- 7). They are joined in this photo by TV5 Entertainment chief Wilma Galvante.
TV5 Manila could score a gold mine when it decided to make mini-series of published Wattpad stories. These are stories that have been picked up by publishing companies and sold in bookstores because of their extraordinary number of "reads". If you count views on YouTube, Wattpad counts reads. We are talking about millions of reads here, enough for them to qualify as something "viral".
I've seen one episode of Eula Caballero and Carl Guevarra's "My Cinderella Story" and I found it cute. The series aired from October 13 to 17. It culminated with a 2.2% TV share for the Kapatid network which is the highest viewership for a Wattpad mini-series. This information is based on Carl's Instagram post.
This week, rom-coms will continue in the
Kapatid
network with a love story to be top-billed my real-life couple Jennica Garcia and Alwyn Uytingco. Written by the writer with the pen name Pajama Addict (interesting, huh?), "DYEPNI" will air starting October 20 to 24 at every 9:30PM. The series will air right after the second season of The Amazing Race Philippines.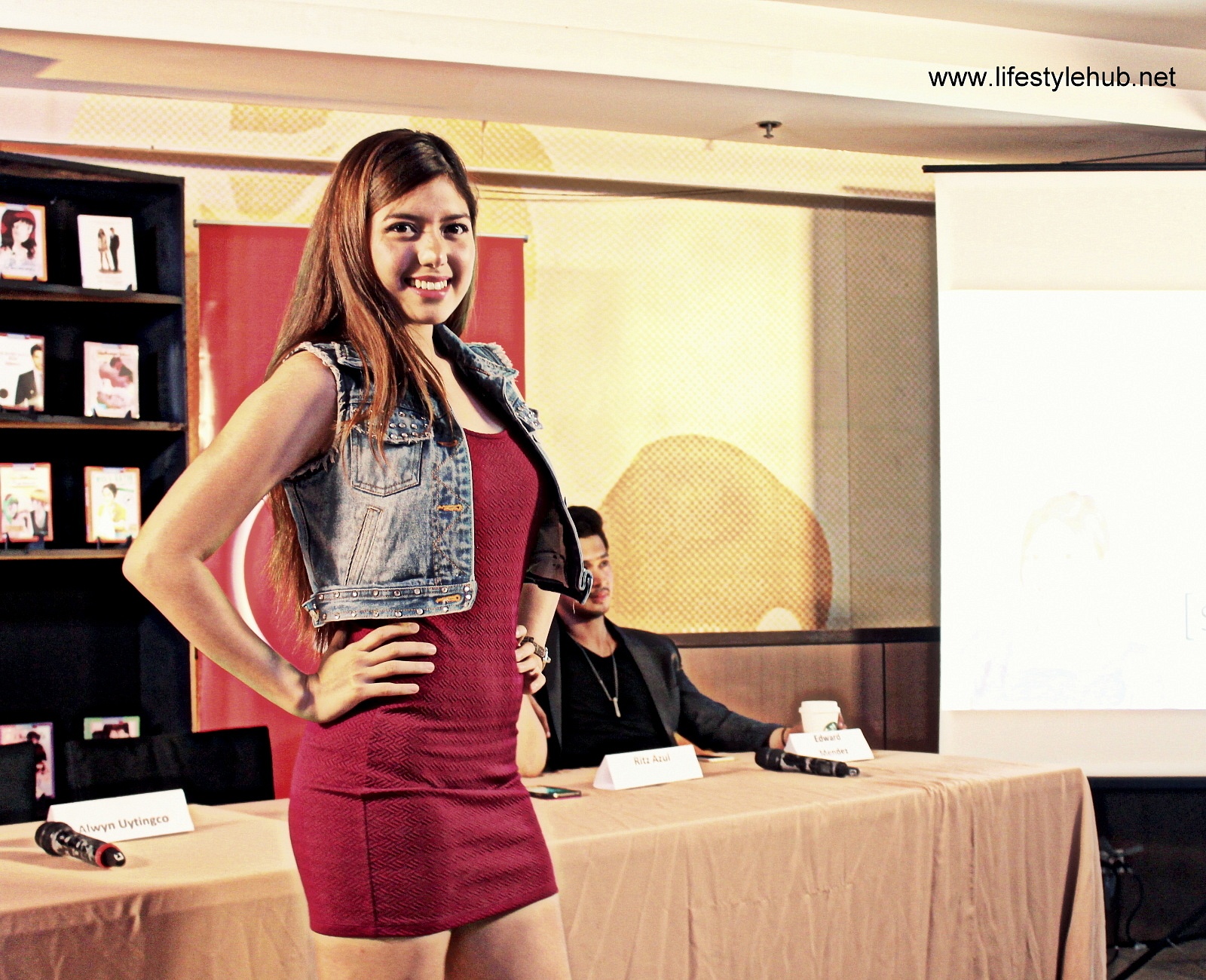 Duday is little girl no more. She is the lead star in Ang Diary ng Malandi (Slight Lang) to be shown on TV5 from November 3 to 7.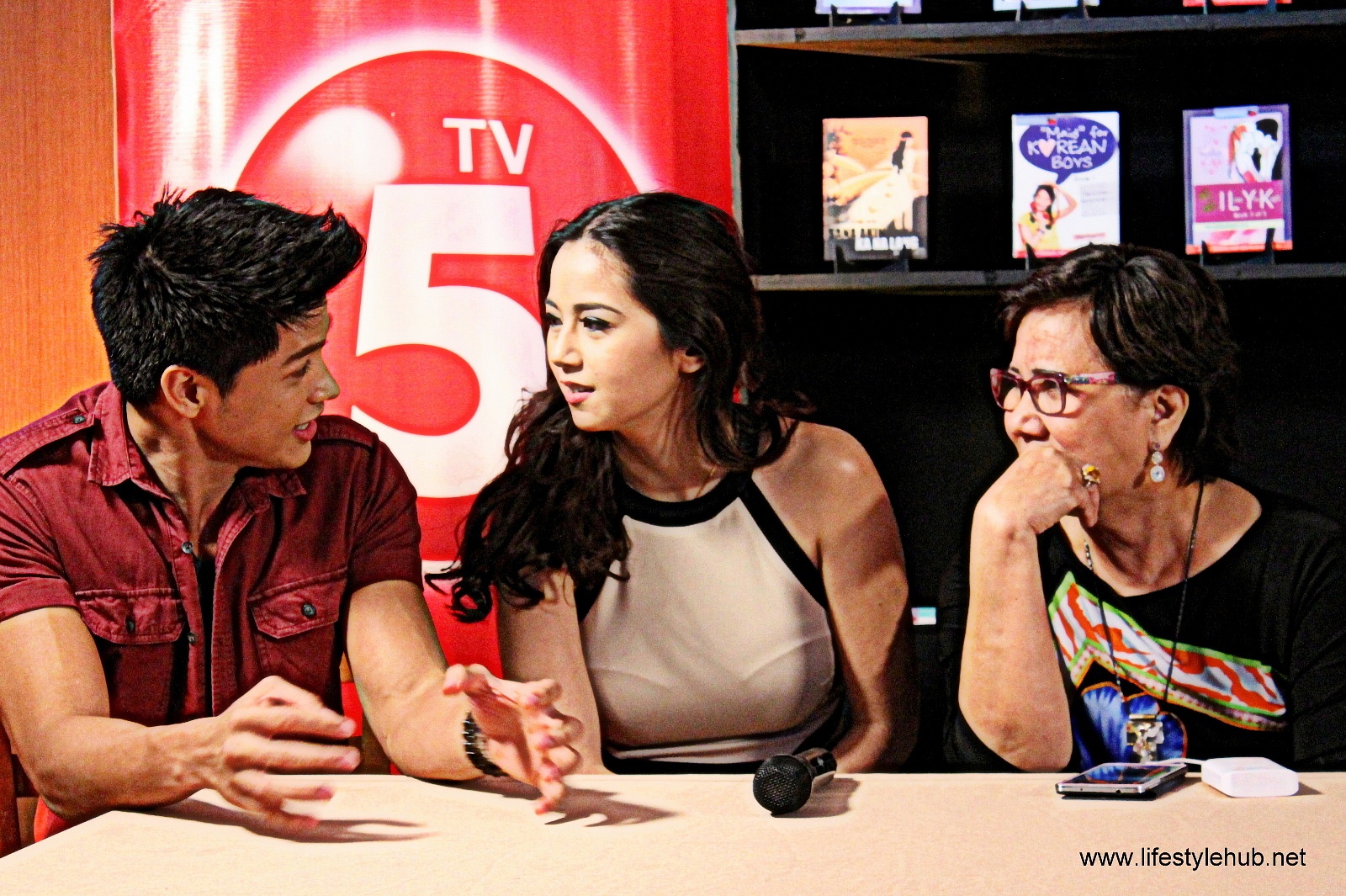 After DYEPNI, hunky Edward Mendez will be paired with Ritz Azul for "Savage Cassanova" which will air from October 27 to 31. The story was published on Wattpad by JustBreatheSofie. It enjoyed 1.7 million reads.
Real-life couple Sophie Albert and Vin Abrenica will take on "Fake Fiance"by Keired which will air from November 3 to 7. The story entertained 2 million readers on Wattpad. The grown up Duday of my fave sitcom Daddy Di Do Du (GMA 7), Isabella de Leon is paired to Edgar Allan Guzman for "Diary ng Malandi (Slight Lang)". The story was written by OwwSIC which gained support from 3.5 million readers. This will air on November 10 until 14.
More stories are still to be converted to mini-series says TV5's Entertainment chief Wilma Galvante. I am not a fan of Wattpad to be honest but with this kind of numbers, I think I should be. Try to tune in to TV5 from Monday to Friday at 9:30 PM and see for yourself if you'll find these stories entertaining. For now, I have to sign up for Wattpad. :)