A mermaid does fishtail loom bands & some 'Kambal Sirena' behind-the-scenes
7:30 AM
In between takes, Aljur Abrenica is on his guitar. He has a new song and you'll hear it on the radio soon!
Ever wonder what your favorite mermaid on TV is doing when she's not swimming in the sea? She's probably making loom bands. She's mastering her favorite pattern, which is of course, the fishtail.
As passionate as she is in doing a crying scene in front of the camera, 20 year-old Kambal Sirena star Louise delos Reyes rushes to her tent after successfully completing a sequence to catch up on her new obsession. For those who are not aware of it yet, looms or formally named as a Rainbow Loom is a plastic toy used to weave colorful rubber bands into bracelets and charms and according to Louise, it is the latest craze. She's making loom bands to sell and give as gifts to her friends.
With a dual role, I couldn't blame Louise for trying to divert her attention from the pressure. While her co-actors are doing one blocking for a single scene, the young actress needs to do it twice for she portrays the twin roles of Alona and Perlas. WynWyn Marquez, who portrays the antagonist Macy Antonio in the soap, has nothing but good words for her co-star. "Wala siyang kapaguran and I never heard her complain. Kami magpapahinga na, siya magbibihis pa at ibang lines naman ang sasabihin niya pero same scene," Marquez shared.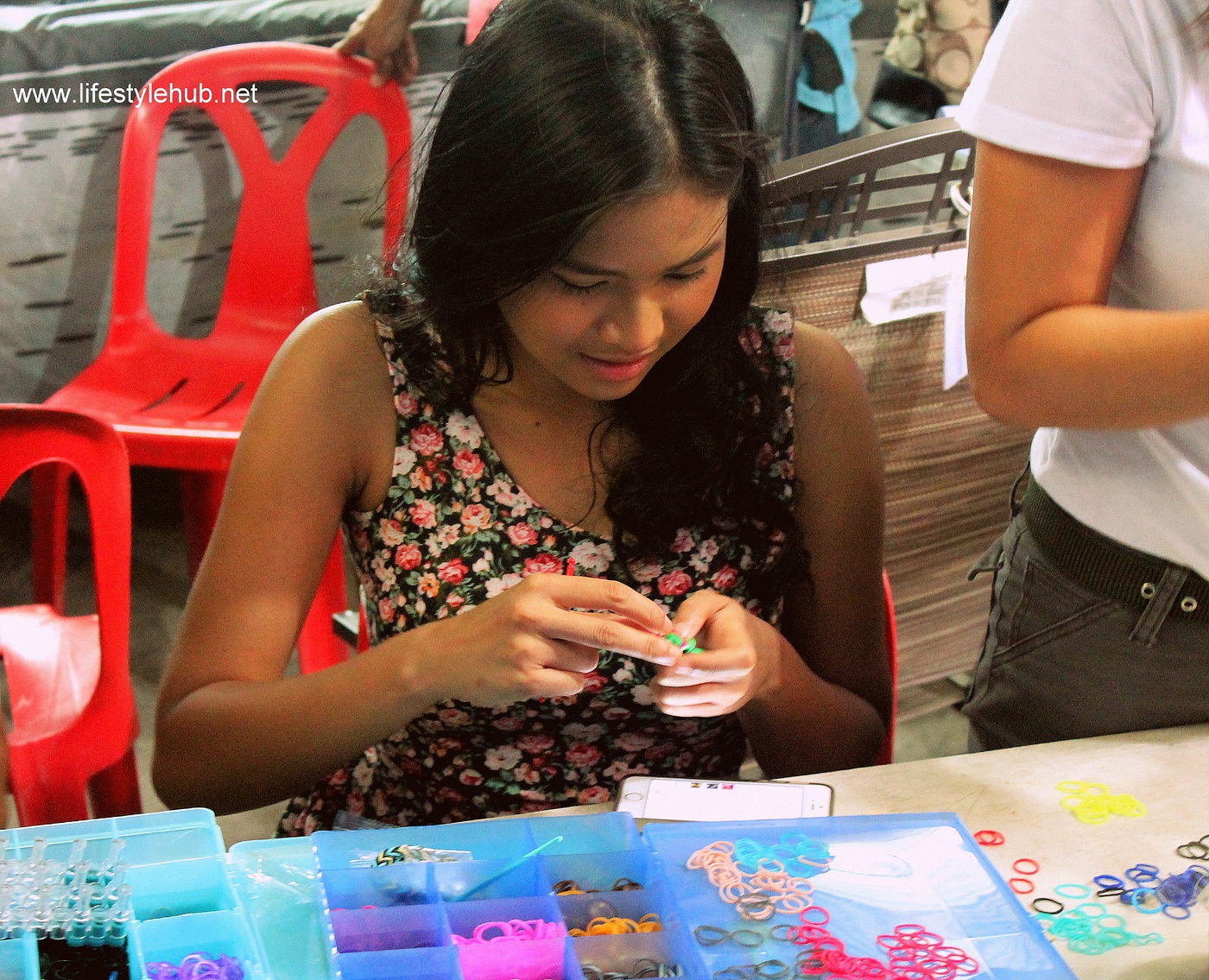 The mermaid is doing the fishtail pattern on a loom. Who could have guessed.
Louise delos Reyes is thankful to those who supported her and her biggest soap which had 70 episodes and will still air 8 more until June 27.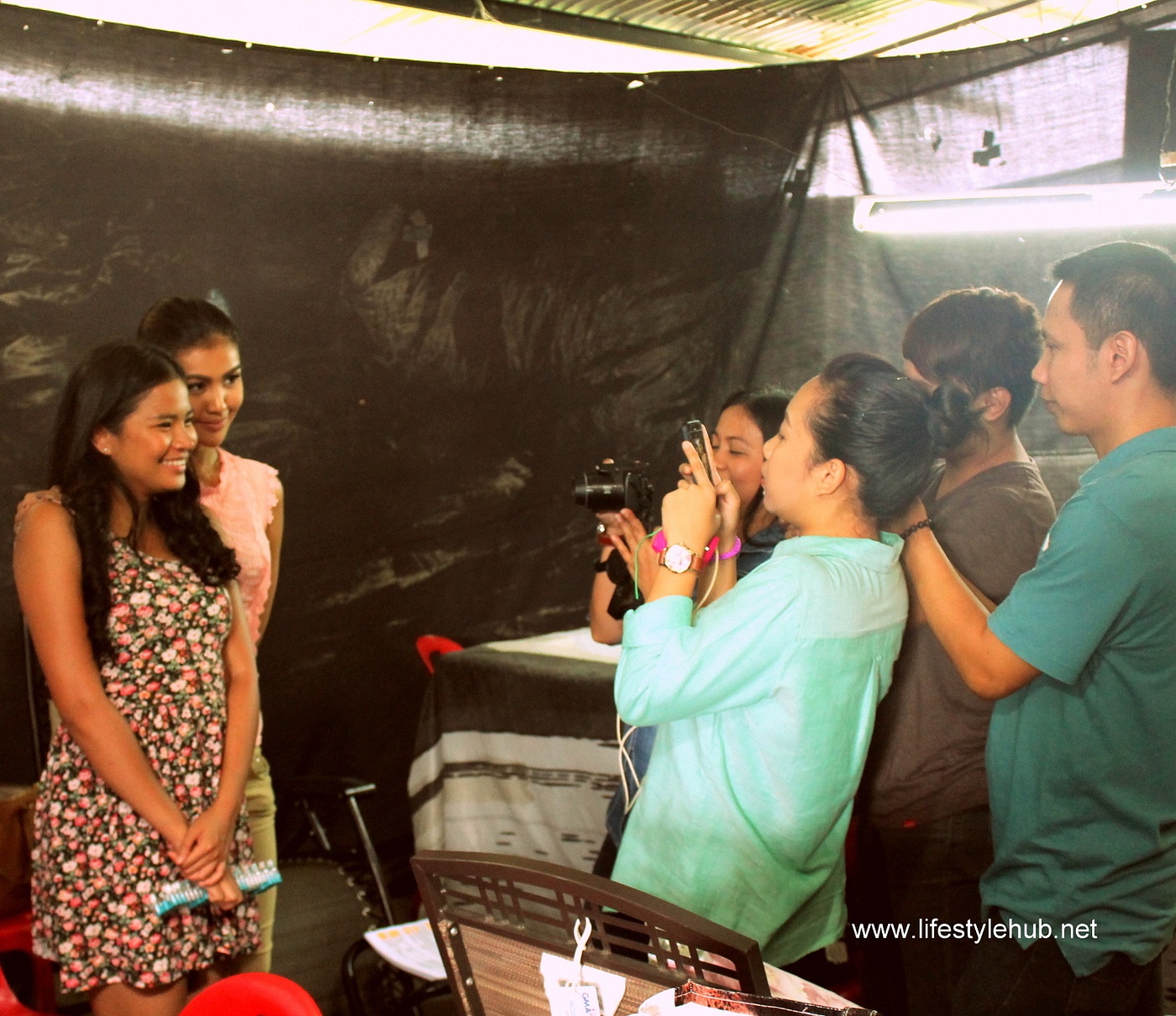 Bloggers take a photo of Louise delos Reyes and Wynwyn Marquez inside the cast's tent at the set of Kambal Sirena.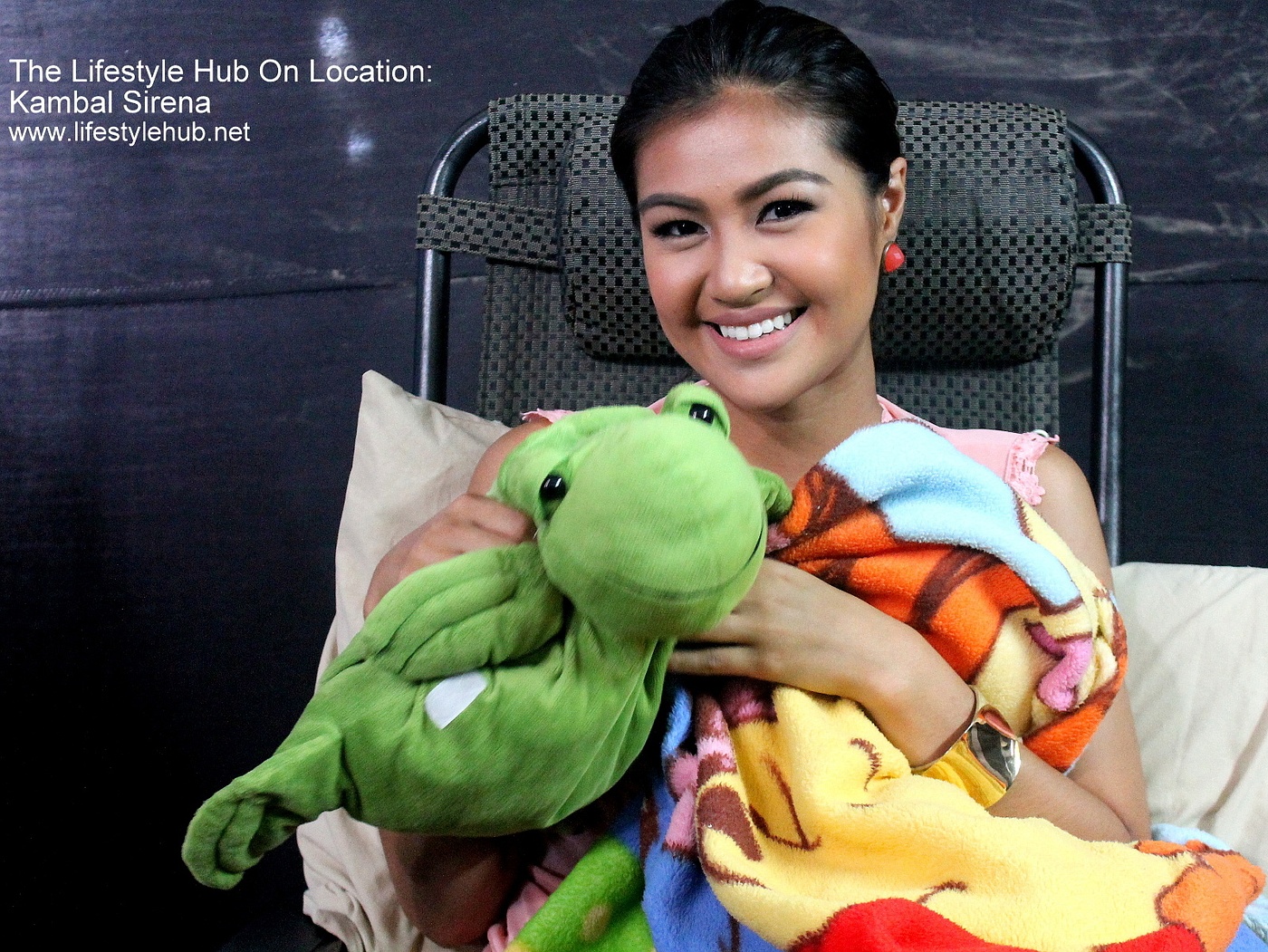 Not being Macy, her kontrabida character in the soap, Wynwyn Marquez enjoys gifts from friends at the set including a Winnie the Pooh blanket from Alden Richards.
On a quick interview in between takes and her loom bands sessions, delos Reyes was satisfied over-all with her biggest project. "I tried my best na magawa ang lahat ng kailangan dito ng tama. Sana nakita ng mga audience yun."
If the leading lady is using her very minimal free time to do loom bands, the leading man preferred to spend his resting moments with a guitar. Aljur Abrenica, who portrays the role of Kevin Villanueva in the soap, is busy writing a song. He promised he will share it with everyone when he feels it is ready. "Perfect 'tong song sa mga nangyayari sa buhay ko now. Kaya siguro medyo mabilis ko siyang natapos because every lyric and every music dito came from the heart," the Kapuso hunk shared. Me and the other invited online writers were the very firsts to hear the song and to be loyal to Aljur's request, I'm sorry if I can not share it to you guys. You can expect for this song to be in an album very soon though.
Sharing the acting credits with Louise delos Reyes, Aljur Abrenica and Wynwyn Marquez in Kambal Sirena is Mike Tan. Also in the cast are Mickey Ferriols, Lotlot de Leon, Chanda Romero, Tessie Tomas, Pancho Magno, Rich Asuncion, Nova Villa and Angelika dela Cruz. After almost 4 months, Kambal Sirena will air its finale on June 27, 2014.
Meanwhile, here are some behind-the-scenes photos I took during the set visit.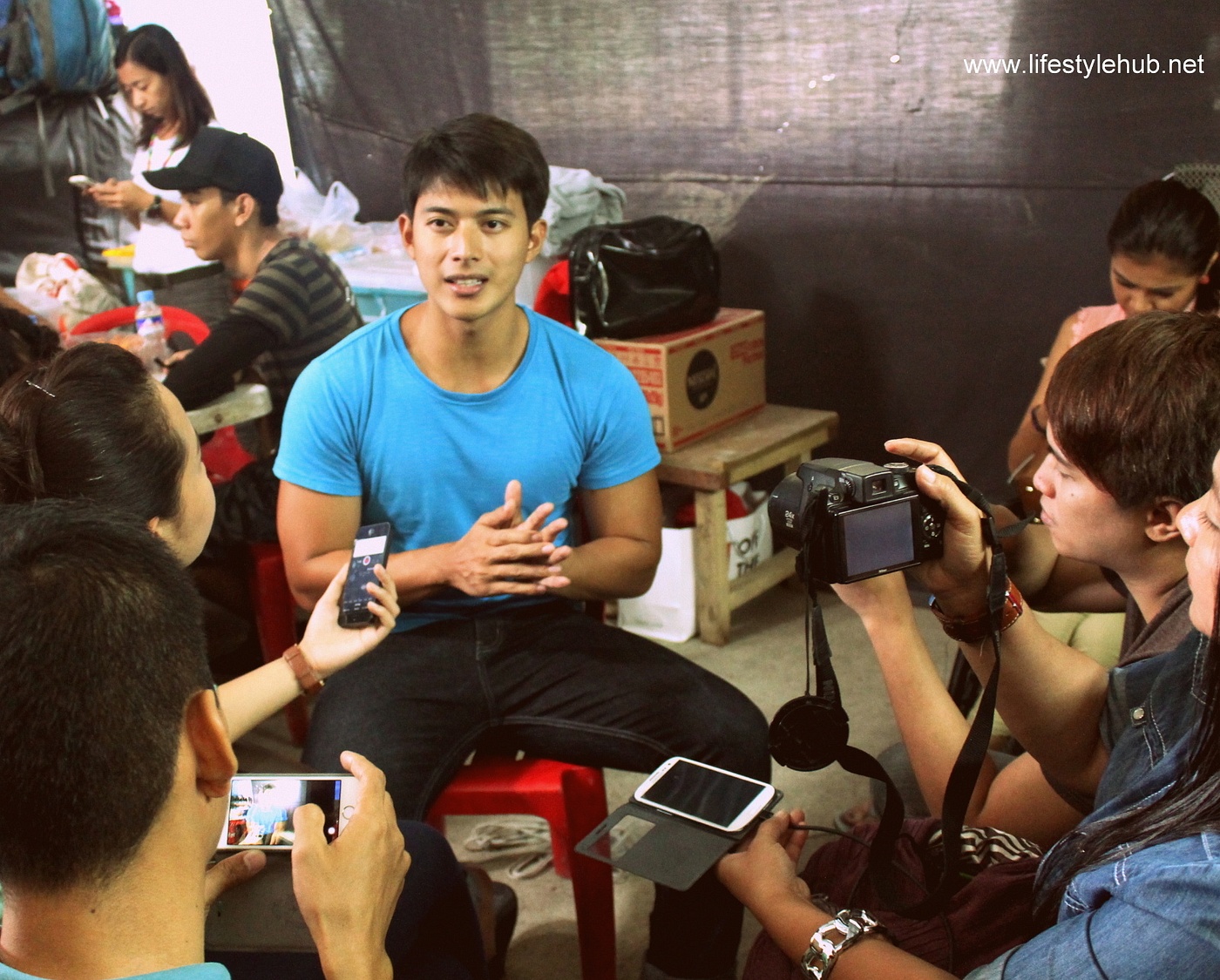 Mike Tan answers questions from the bloggers.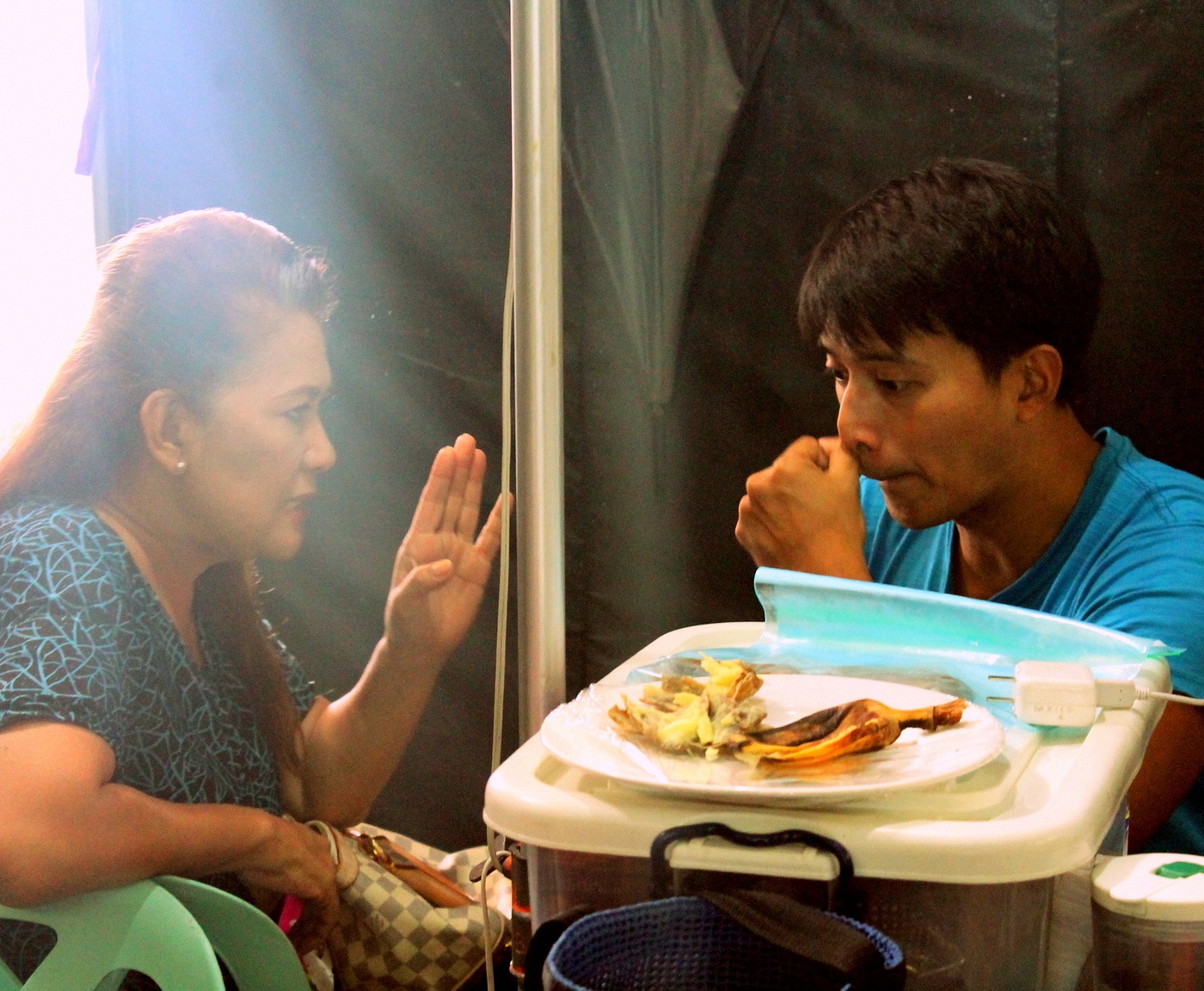 Veteran actress Tessie Tomas provides some acting tips to Mike.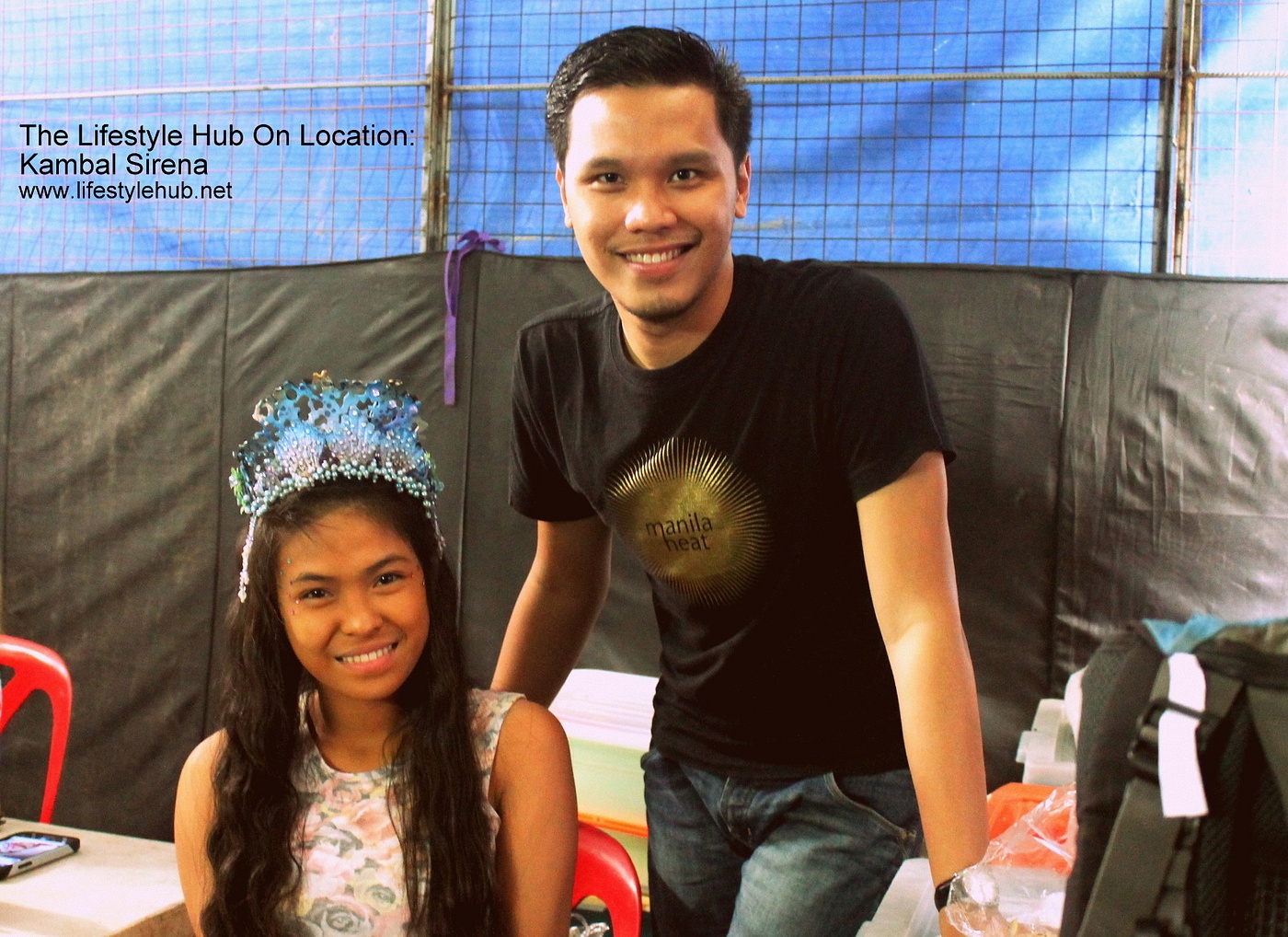 She was hired to be the other Louise in scenes when the twins are in one frame. I just have to take a photo with her and that majestic crown.