Instagram Feed: Great dining and healing the hangover in Bone and Barrel Bistro
10:14 PM
I only go to Eastwood either to cover an event or shop at the outlet store of People Are People. For someone living in Makati and working in Pasay, scaling the northernmost area of Metro Manila where Eastwood is located requires huge effort. In one relaxing evening, however, me and my friends were in the mood for a random food trip where we drove all the way to Eastwood and found Bone and Barrel Bistro.
Choose from Salted Caramel, Elder Flower, Wildberry, Raspberry, Pomegranate, Green Apple, Strawberry, Kiwi, Watermelon and Cucumber from the among the flavored beers in Bone and Barrel. Enjoy it with friends while devouring over their signature Crispy Pork Face.
Thanks for the referral of another blogger friend, the drive was worth it when we started dining at Bone and Barrel. Their best seller welcomed us, the Mignon Skewers or grilled cheese stuffed fillet mignon wrapped in bacon. For PhP295, the 6 very tasty pieces of skewers prepped us for a promisingly sumptuous night.
Our expectations were exceeded further when the gracious Marketing personnel of MegaWorld Corporation ordered us the savory Crispy Pork Face. I imagine a group of 4 to 5 friends sharing a decent meal with the well-fried pig face or eat it with a thirst-quenching mug of beer. I guarantee you the price is worth it.
Bone and Barrel Bistro opens 11AM and closes up to 4M during weekends. Bonus is that their guests can stay until 5AM. The idea is to provide families and friends a great meal early at the night, host a good drinking session by midnight and then heal the hangover with their excellent selection of soups right after.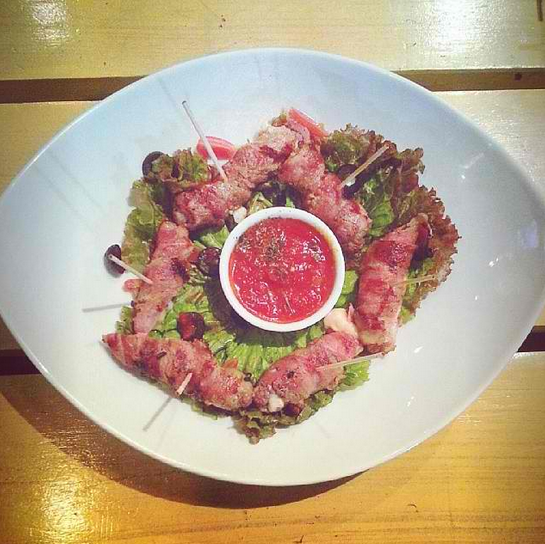 Mignon Skewers or grilled cheese stuffed fillet mignon wrapped in bacon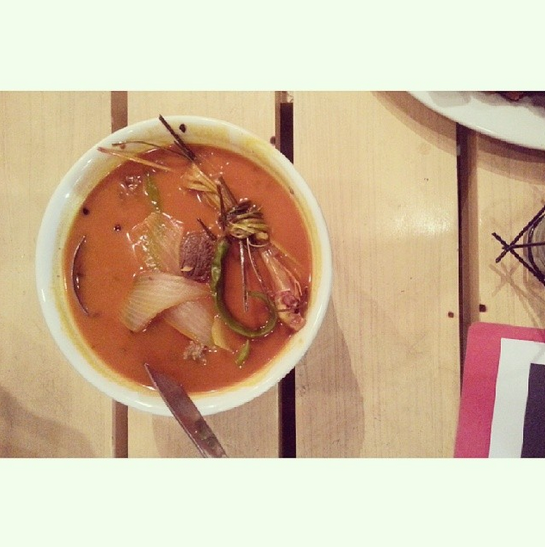 Heal your hangover with Kansi or Ilonggo style bulalo
Bone and Barrel's core products are tapas and steaks which were created by Celebrity Chef Peter Ayson, Chef Neil Manuel and Raymund Magdaluyo. Forgive us for being full that we weren't able to experience the other dining delights but other must-tries are Sirloin Tapa, Homemade Corned Beef Steak, Roasted Barrel, Buffalo Wings, Beef Lengua Sisig and the Caesar Salad.
For those who just want to chill over refreshing alcoholic drinks, I would strongly recommend their amazing house flavored beers. For only PhP85 per order, you can choose between Salted Caramel, Elder Flower, Wildberry, Raspberry, Pomegranate, Green Apple, Strawberry, Kiwi, Watermelon and Cucumber beers. As we settled down for a fun conversation, it was also great sipping my Hennessy Citrus. Priced at PhP99, it's a great mix of Hennessy and soda.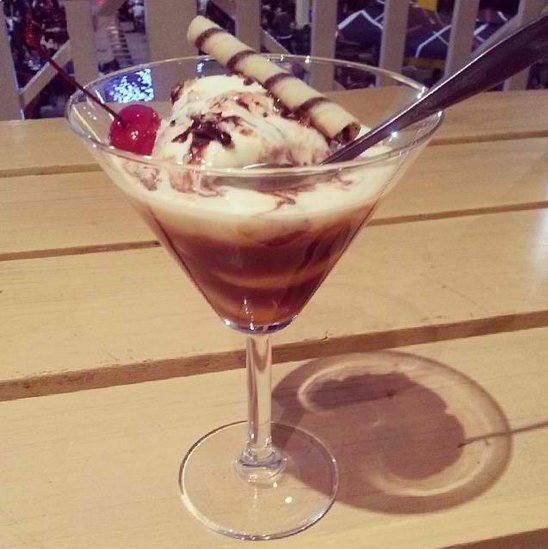 Meet the Banana Foster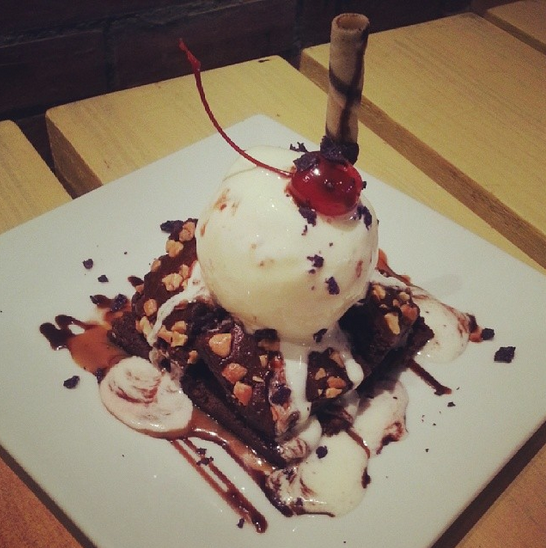 Brownie ala mode
We weren't really drunk but we didn't leave Bone and Barrel Bistro without tasting their signature bulalos. For the discriminating foodie, their bulalo choices are far from ordinary. They serve the Bulalo Pho (Vietnamese style beef soup served with basil, wansoy, chilies, siracha and bean sprouts), Taiwanese Bulalo (Asian style bulalo soup), Kansi (Ilonggo-style bulalo), Bone and Barrel Bistro House (traditional Filipino bulalo soup), Carlito's Sizzling Bulalo (beef shank served with mushroom gravy on sizzling plate). What their customers are requesting more often though is Manolo's Bulalo Ala Pobre (beef shank served with garlic gravy).
There is also a place for the dessert lovers in Bone and Barrel Bistro. The Brownie ala mode is surprisingly good although I fell in love with the Banana Foster. The ice cream complements the sweetness of the whole banana and the caramelized banana bits served at the bottom of the dessert glass.
From the same company that gave you memorable dining experiences at Seafood Island and Red Crab, Bone and Barrel Bistro is only located in Eastwood as of the moment but branching in other malls in the metro is in the works. For those who have time in their hands to eat and drink 'til morning, this new found dining and drinking haven can provide you the complete experience. For those who doesn't have the luxury to chill, Bone and Barrel is also an impeccable choice for a quick food fix.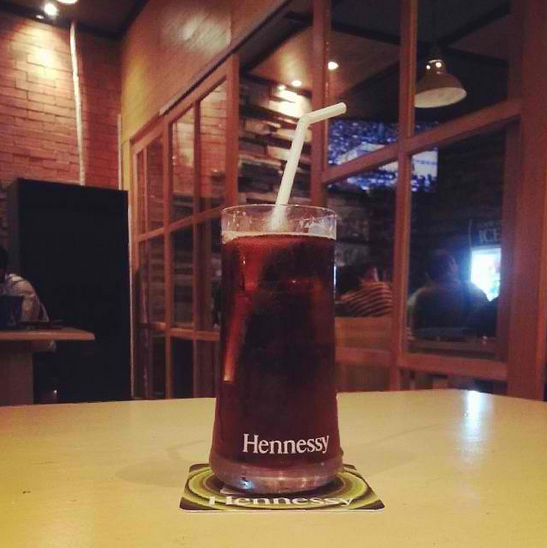 Hennessy Citrus is a great mix of Hennessy and soda for only PhP99
Follow me, @mj_deleon on Instagram