Charmingly Chinese and Delightfully Dim Sum at New World Makati Hotel's Jasmine
1:32 AM
Stewed E-fu Noodles (flat Cantonese egg noodles made from wheat flour)
and Fresh Prawns, anyone?

I am not the biggest fan of Chinese food. All of my friends know that. But when I started blogging, I forced myself to try other dishes, Oriental in particular. Little by little I learned to appreciate the gastronomic wonders of Chinese cuisine. Last week, Jasmine restaurant in New World Makati Hotel allowed me to experience a tableful of mouthwatering magic with one of the world's most recognizable tastes.
First in the menu was the Barbecued Meat Combination Platter. With grilled pork and Peking Duck served altogether, who would've thought that I would spend more time consuming the grilled jelly fish. I didn't know those were tentacles at the start as it felt like some soft animal tissue that is knifed to bits but my eyes grew when Chef Wong Kam On declared that I was eating something from the sea. FYI, I'm not a seafood lover either but you can consider Jasmine's jellyfish safe and sold.
Then came in Wok fired pork tenderloin in Mandarin sauce. This is something very popular for my palate I thought but the sauce kicked in strong Chinese aroma that I usually dislike. However, when I took the time to let it sit on my tongue, the sauce's sweet and sour playful taste override the weird smell. The night culminated with this dish hailed as my personal favorite among those served.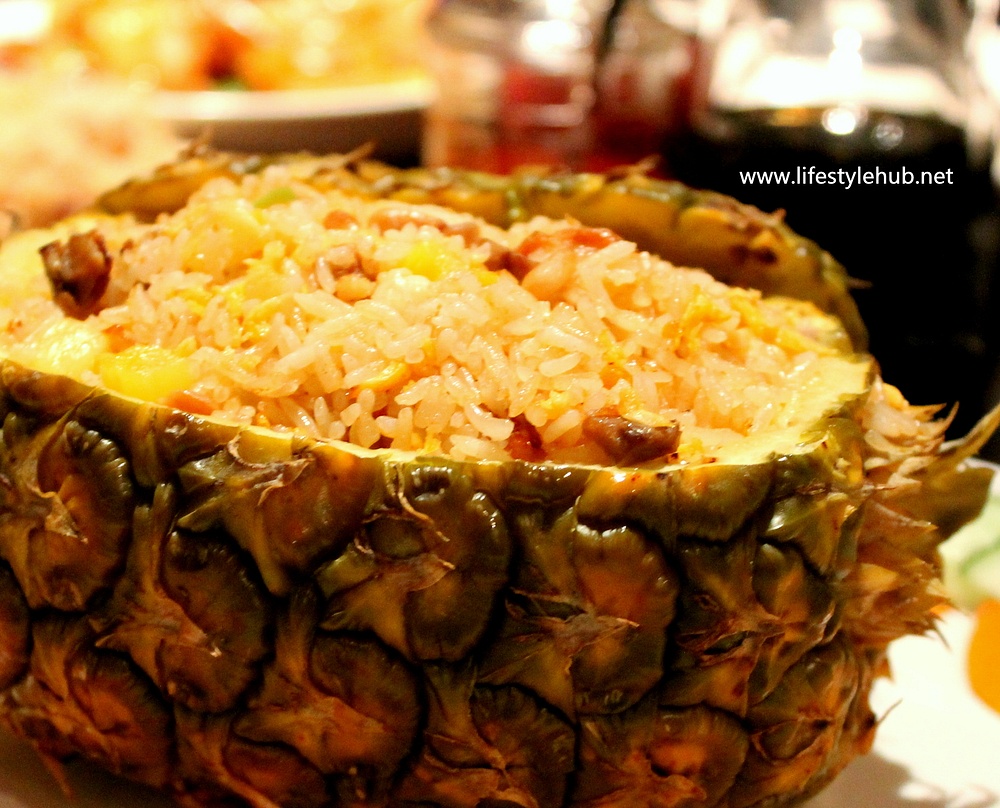 Don't even think this is your regular fried rice.
This, my friends, is Deep friend duck pineapple stuffed Taro.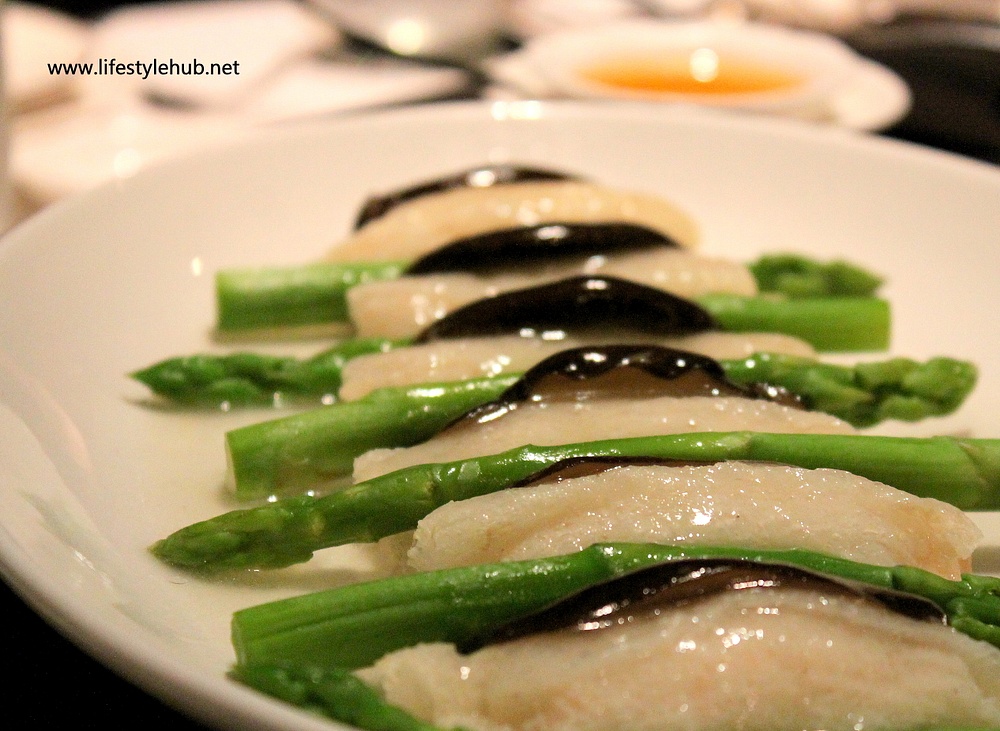 Something for the fish lovers- Deep fried cod fish with ginger and onion leeks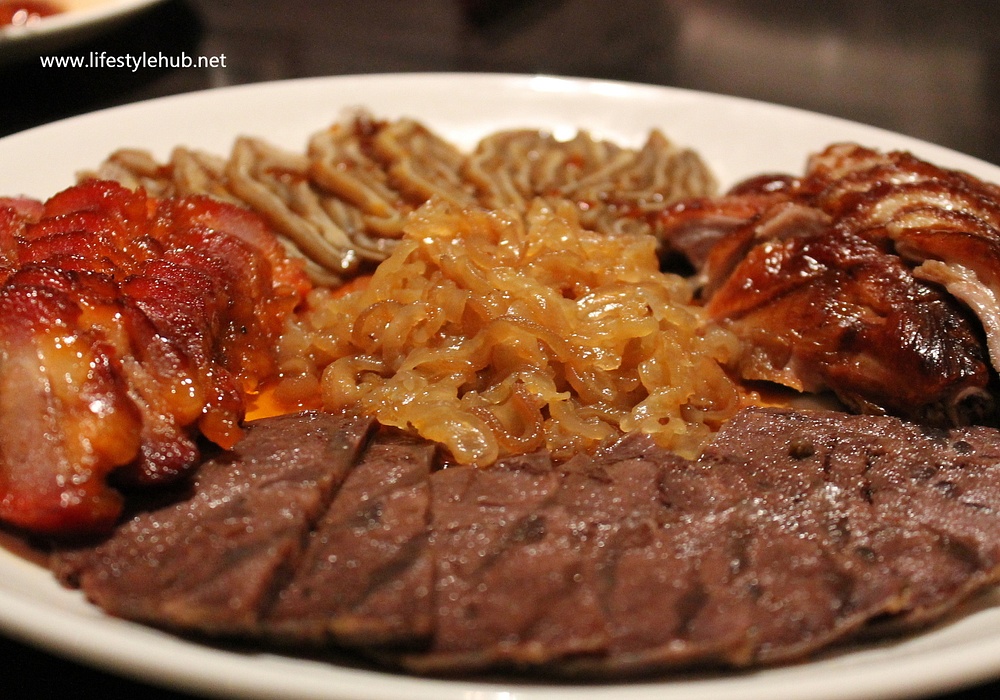 The star of the night, meet the Barbecued meat combination platter.
My best part would be the grilled jelly fish in the middle.
Here's one dish for the traditional eaters, Wok fried tenderloin in Mandarin sauce
There were several more dishes which the bloggers devoured on and you yourself can enjoy the same experience as Jasmine introduces four Signature Sets. All of the sets are being prepared by no less than Chef Wong Kam On and his team of seasoned chefs and feature signature dishes you can only taste in Jasmine: XO Prawn with Sotanghon in Claypot, Steamed Cod Fish with Garlic, and Beef Short Ribs with Black Pepper Sauce among an impeccable list.
The best thing is, these sumptuous dishes are complete with appetizers, dessert and tea which is priced at a reasonable PhP750 to PhP1,450 per person.
I know the most discerning Chinese food eaters would want some Dim Sum and Jasmine does not disappoint. Jasmine cooks up an unlimited serving of freshly prepared dim sum. You can have a fill of sweet and savory steamed buns, succulent dumplings, crispy fried spring rolls, and baked delights plus a choice of tea and soda for only PhP695 per guest. On the weekend, diners can indulge and match a dim sum feast with a glass of sparkling wine for only PhP950 per guest.
In the mood to eat Chinese? Head on to Jasmine which is located at the 2nd floor of New World Makati Hotel. You can contact them at 811-6888 for reservations. Trust me, it will be meiwei!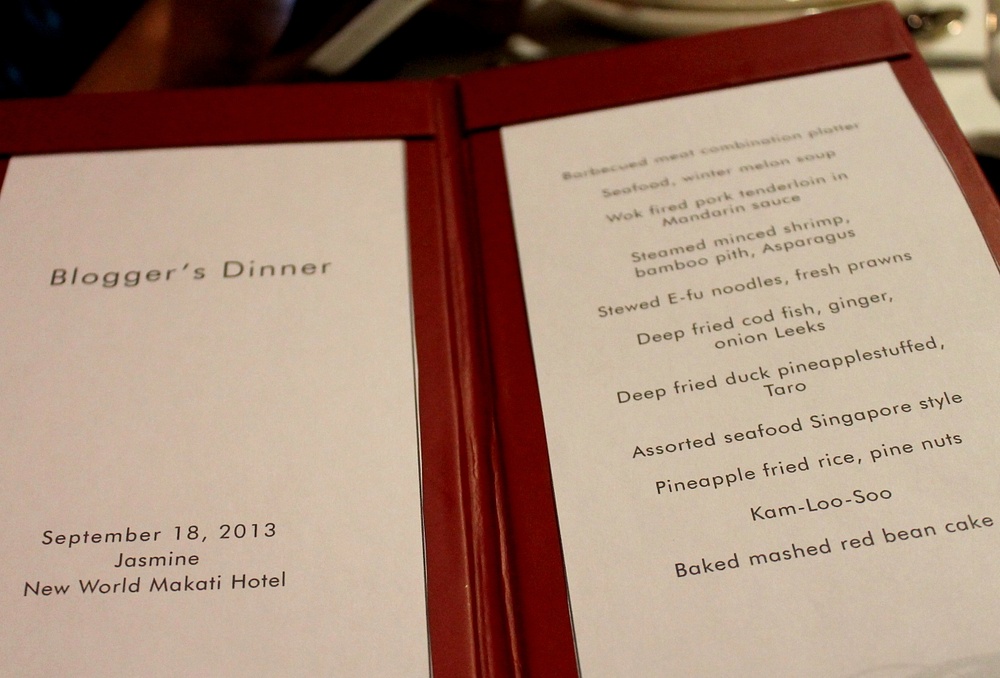 Our menu for this special night
Cozy interiors usher in a fine dining atmosphere at Jasmine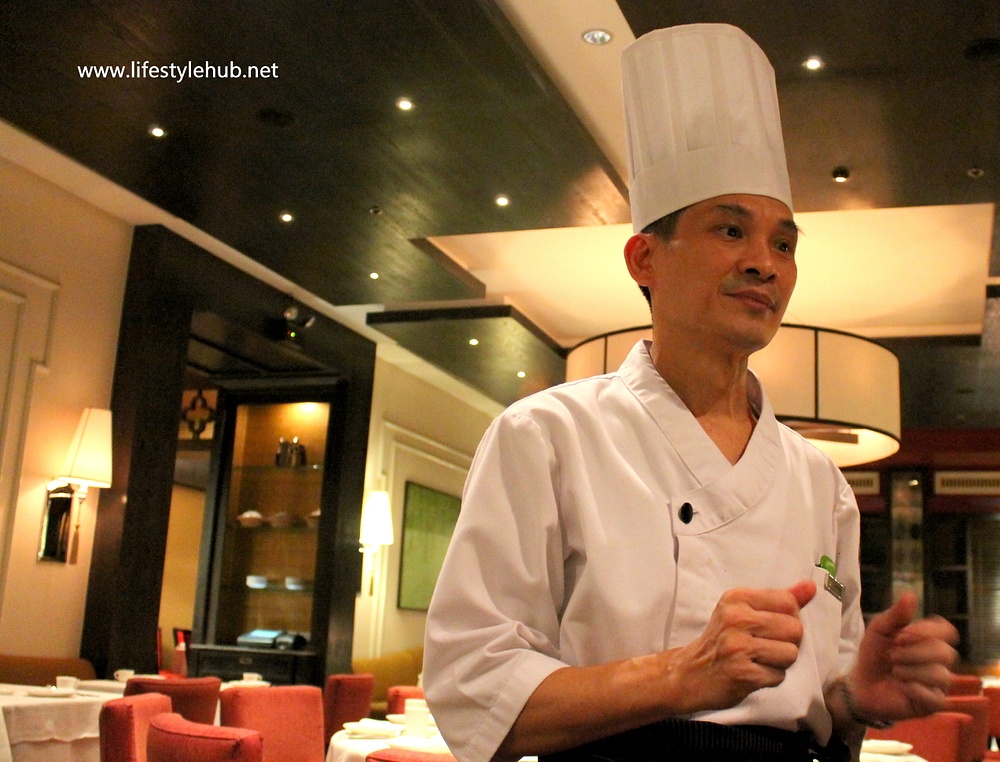 Chef Wong Kam On, the king of Jasmine's kitchen explains how he kept the Chinese
flavor of his dishes intact and free from Western and Filipino influences
Table 1 of bloggers invited for the intimate dinner with New World Makati Hotel's very
gracious Marketing team headed by Miss Jann Delgado with Miss Nikki Javan.