NatGeo launches new show 'The 80's: The Time of Our Lives' with a retro party
5:35 PM
Madonna's 'Like a Virgin', the rise of credit cards, the emergence of VHS over Betamax, Cindy Lauper, the hip days of walkman, the height of space exploration, Michael Jackson, the first use of mobile phones, and the cold war between the United States and the Soviet Union- these are the marks of the 80's, the decade cable network National Geographic referred to as the 'decade that defined us'.
One of 80's biggest TV show is Carmi Martin's Chicks to Chicks.
She showed up last night to join host Jojo Alejar in an aura that traversed 3 decades.

On a huge screen with bits of its lights reflecting on several disco balls, Fox Philippines and its subsidiary, the National Geographic Channel held an 80's Bash at Amber Ultra Lounge at The Fort Strip to fittingly welcome the cable network's new show The 80's: The Time of Our Lives.
The event was hosted by one of TV regulars during the 80's with his regular appearances in That's Entertainment among other shows, Jojo Alejar. Sharing the hosting duties is one of the 80's biggest child stars Chuckie Dreyfus. The cast for that fun night was completed by one of the most in-demand actresses in the 80's with her regular sitcom Chicks To Chicks and her filmography including 'Hot Property' and 'Working Girls', Carmi Martin.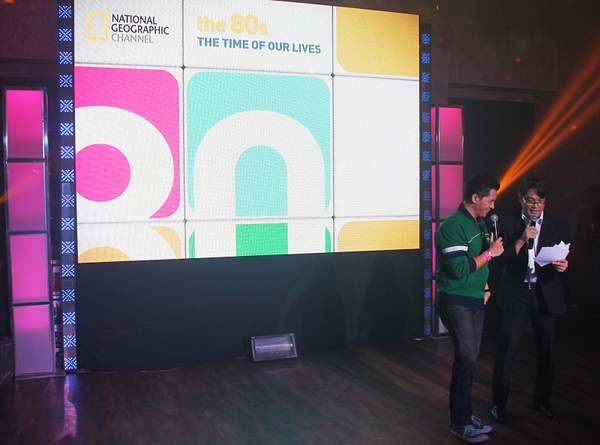 80's child star Chuckie Dreyfus hosts the show with a regular from an iconic
1980's show 'That's Entertainment', Jojo Alejar.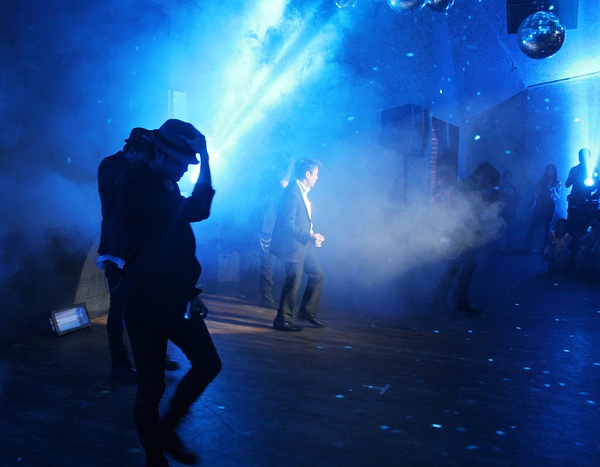 Jojo Alejar performing one of the most symbolic dance moves which started
in the 80's- Michael Jackson's moonwalk.
Together, the three personalities entertained the press people and business partners in the venue to hype up the needed energy for the new show. The 80's: The Time of Our Lives is scheduled to premiere on May 20 at 10PM. The TV documentary series gathers and weaves together interviews from noteworthy personalities from the 1980's including celebrities, innovators and media personalities, constructing a collective narrative that shapes the biography of the revolutionary decade. Narrated by British actor Richard E. Grant, the series is a documentation of how people learned to live, work and play in completely new ways in the face of breakneck-speed innovation, glamour success, and ambition which all permeated in the 1980's.
If you are too tired to deal with the remote control and switch channels to search for National Geographic Channel, it can be seen on SkyCable Channel 41, Destiny Cable Channel 55, Cable Link Channel 58, Cignal Digital TV Channel 76, GSat Channel 14, and to over 300 cable operators nationwide. So, shall it be a TV date on Monday night?