Finding the "Oh!" in Savoy Bistro's "Haute" cuisine
7:20 PM
They might not agree in political ideologies but their thoughts could be similar when it comes to dining. In a little corner along Kalayaan Avenue in Makati is where former first lady Imelda Marcos and President Ninoy Aquino spend some quality eating, not at the same time though, so shares Rose, a staff at restaurant extraordinaire Savoy Bistro.
The most requested dish in Savoy Bistro is Tournados Rossini (PhP1,300)- the King of Steaks
topped with pan fried duck foie gras (French for "fat liver") and black truffle sauce
I for one forgot the challenges I met due to the crazy traffic on my way to the restaurant. I'm not sure if it was my first time to eat in a restaurant with a defined Haute cuisine (pronounced "oww" or "owt" and refers to "high cooking"; cuisine of high level establishments, gourmet restaurants in France) but for all its worth, I forgot I was in the Philippines for 2 hours.
Rose went on with her story while we waited for the 5 dishes scheduled to be served that evening. She said celebrities would come to the restaurant from time to time, enumerating Kuh Ledesma, mother and daughter Zsa Zsa Padilla and Karylle, Gary Valenciano and sometimes, our leaders in Congress. That time I felt I was in a very good league.
After a short wait, the dishes came. For now, I know many of you would love to be in my position a few weeks ago. But here are the dishes I devoured.
Chorizo, Tomato and Cucumber for Starters
Don't be surprised if you have not ordered yet and you are served the Chorizo with Tomato
and Cucumber Canape. This greeting
gesture from Savoy Bistro is free to all diners!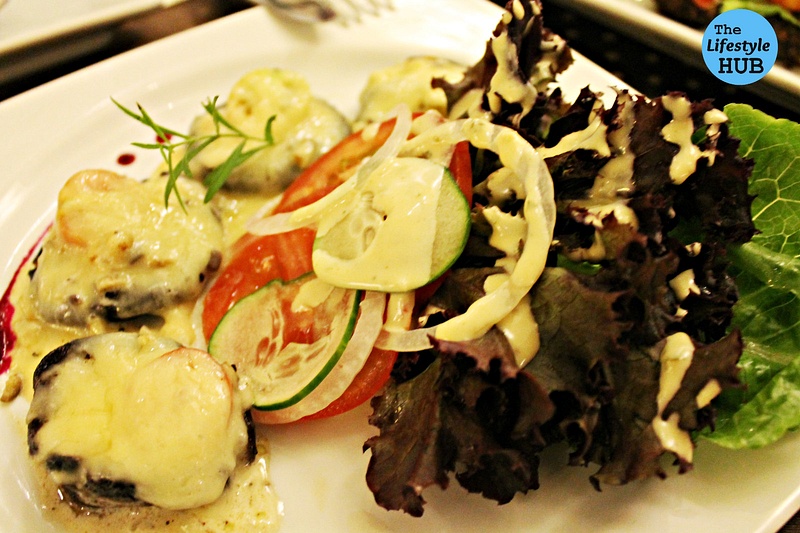 Baked Mushroom and Eggplant
Another appetizer is not bad, isn't it. This is the first time I ate mushroom and actually liked it!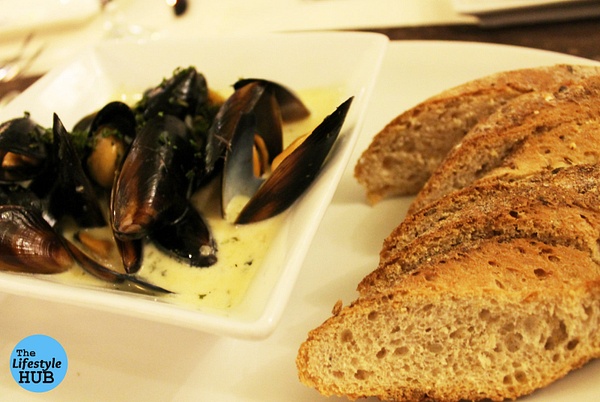 Seafood meets bread
One of Savoy's bestsellers is Mussels and Co (Single- PhP310; Sharing- PhP580) which can be
prepared in 3 ways. For that night, our dish was served in white wine and cream but you
can also choose
to have the mussels prepared with tomato and basil or marinier wine.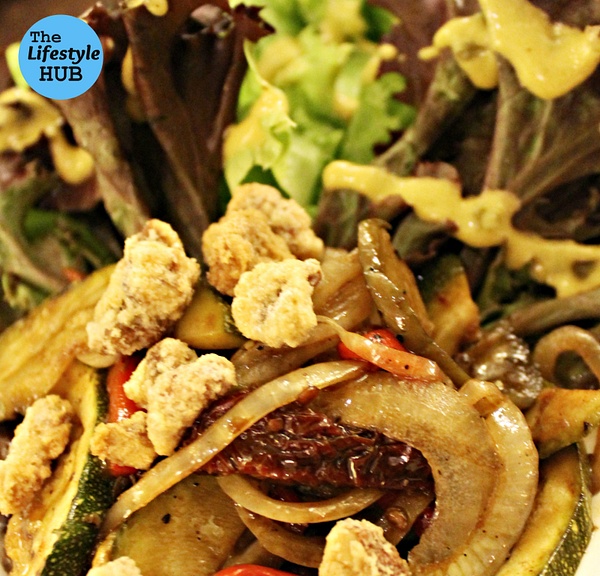 Your Napoleon Salad (PhP340), up close!
Mesclun Greens (a salad mix of assorted, young salad leaves which originated in
Provence, France), sun-dried tomatoes, roasted vegetables, walnuts
and Balsamic (meaning: originating from Italy) vinaigrette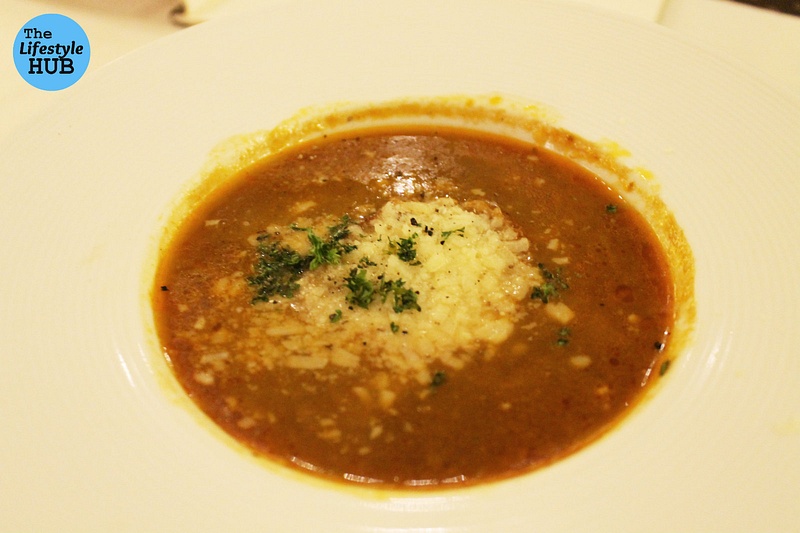 Not your ordinary French Onion Soup (Php270)
This could be the best French Onion Soup I tasted: salty, sweet, spicy and served searing hot!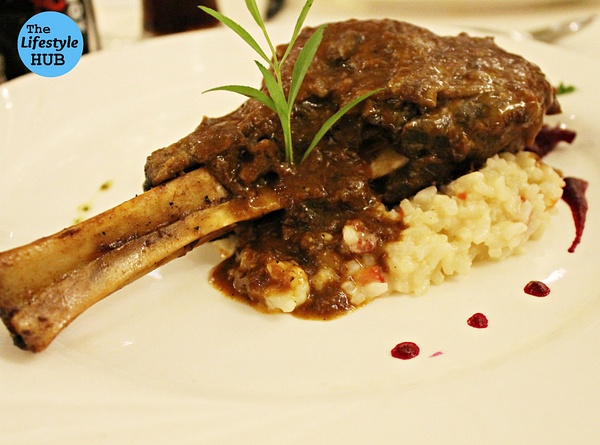 Counting sheeps, errr, lamb!
Presenting to you, the 5-hour Merlot Braised Lamb Shank with Tyrolian (a region of the eastern Alps
in western Austria and northern Italy) bacon risotto (a class of Italian rice dish cooked in broth to a
creamy consistency) and truffled lentils- priced at PhP980.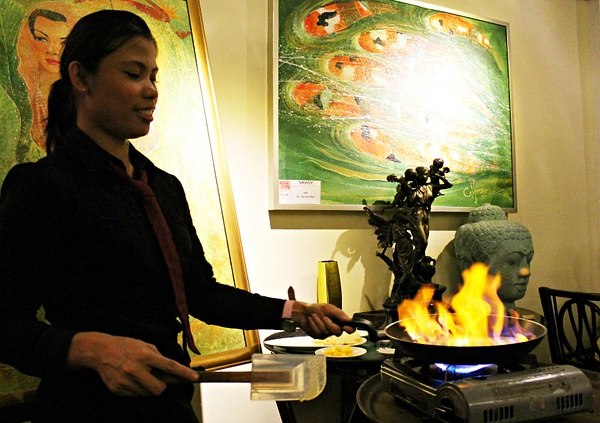 There's fire! Nope, there's flambe'!
You can have your Crepe de Savoie served as Suzette (orange and grand marnier),
Limone (lemon, caster
sugar and Cointreau) or Mango Jubilee (mango, orange, and rum)-
all for PhP300- as they are prepared
right beside your dining table.
Flambe would refer to a dessert in Savoy Bistro but the word actually
refers to a cooking procedure
in which alcohol is added to a hot pan to create a burst of flames.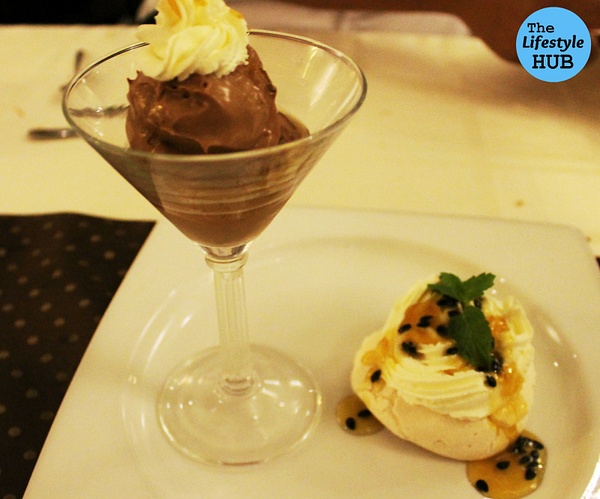 Mousse and Meringue
Another one of my favorite parts during that lavish dinner is, as expectedly, the dessert.
This is Grand Marnier Chocolate Mousse and Passion Fruit Meringue. Get this delectable partnership
for only PhP320. But be careful, Grand Marnier is an orange-flavored brandy liqueur (sweetened liquor).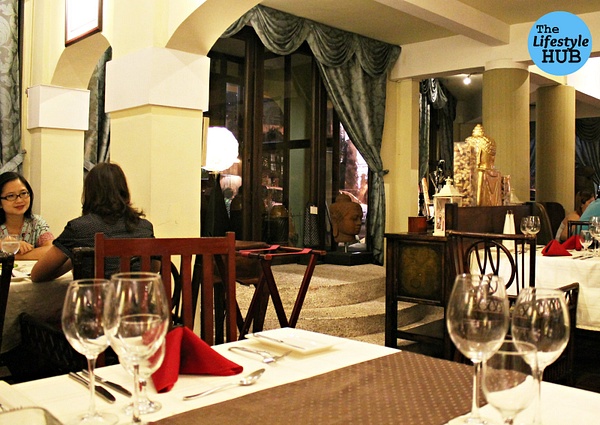 The humble facade of Savoy Bistro does not really explain the elegant but homey atmosphere inside.
From the art pieces hanged on the walls to the glassware, I see why foreigners frequent the place.
This place reminds them of home.
It was a considerably lengthy dinner for me but I think I only covered not even half of what's on the menu. For the most discerning foodie who can only find the best food in limited spots in the metro, the list of food items in Savoy Bistro would appear as priced as jewelry.
There's a lot more to savor, trust me, and you can only dine there from 6PM to 10PM on Mondays, Tuesdays, Wednesdays, and Thursdays and from 12 noon to 4PM and 6PM to 12 midnight on Fridays, Saturdays and Sundays. Savoy Bistro is located at East Asian Art Gallery, Kalayaan Avenue, West Makati, near Rockwell. Bring the entire family and rediscover the "oh!" in Haute cuisine