Apoy Sa Dagat's creative team speaks
1:28 PM
Growing up in a household who spends weekend afternoons and week nights following TV series, I was pleasantly surprised with how our drama shows now observe a by-season structure. They might be doing this before but can you remember how long did Judy Ann Santos and Gladys Reyes acted out as Mara and Clara in the ABS-CBN soap? If Wikipedia recorded it right, Mara Clara was on air 5 times a week for 4 years and 6 months with no season breaks.
Creativity vs Commerce
Given the chance to know the details of how a major TV drama series works, I asked Apoy Sa Dagat's main man Direk FM Reyes on their creative plans once management will ask them to extend their run from what was originally conceptualized. "We don't operate that way", Reyes cleared. "Even if the ratings are high and the management thinks it's good to extend the story, if we feel the material is best to be left that way then we will not force it", he revealed further.
We all know television is commerce and ratings largely determines how long will most shows air, but it is nice to know that creativity is still a top priority. Well, atleast to some people and the creative team of
Apoy sa Dagat
included.
The team behind the newest ABS-CBN drama series in the primetime block were all excited to relate to the bloggers the things that they are so proud about the show. Direk FM Reyes was joined by his co-director Nick Olanka, creative manager Henry Quitain and headwriter Arden Condez. To those who are huge fans of drama shows, FM Reyes directed other ABS-CBN drama series including Ikaw Ang Lahat Sa Akin, E-boy, Lovers in Paris, and Lobo.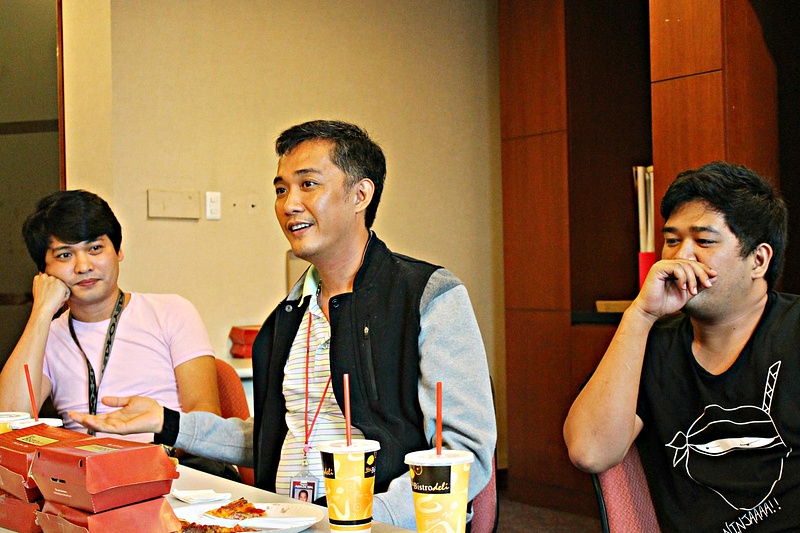 Showcasing the Philippines
I'm sure you now noticed how ABS-CBN pilots most of its drama series now with fancy shots made in Europe or anywhere outside the country, even as exotic as Bhutan in the case of Princess and I, but Apoy sa Dagat takes a different route. "It was suppose to be shot in a Carribean cruise. That was the original plan" shares Reyes. "But I thought, why not just showcase the beauty of the country instead", he added explaining further on how this will contribute to the growing international attention given to the Philippines right now. Recently, the New York Times listed the entire Philippines as Number 17 of the 46 Places to Go in 2013, even ahead of neighboring Thailand and Paris, France.
Complementing the excellent location is the skillful hands of renowned cinematographer Romy Vitug. "The mood of the shots are romantic with a classic approach", Olanka related. But it's not the location or the background that the creative team are so excited about. "This might sound biased but with all sincerity, we really have a brilliant cast", Reyes said.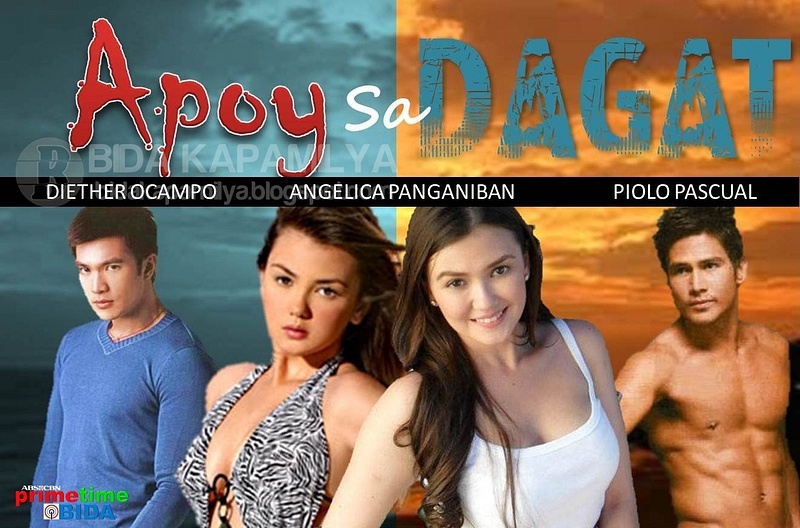 'A cast to reckon with'
From Angel Aquino's edgy portrayal to taking up the other side of Nikki Gil, the team also boasted the expected fine performances of the veteran cast, particularly Liza Lorena and Perla Bautista. "Maloloka ka kay Perla Bautista dito. Di pa rin siya kumukupas", Reyes laughs. "Nikki Gil naman is packaged like Lea Salonga, well-educated and properly groomed but I will reveal it anyway. She is a prostitute here. I don't think I need to expound pa on how challenging that is", he shared further.
With Diether Ocampo and Piolo Pascual in tow, Creative Manager Henry Quitain became very enthusiastic upon sharing how the soap's lead, Angelika Panganiban, fared. "I was never really an Angelika fan. Siguro nadala lang yun sa
Princess Sarah
kasi maka Camille (Prats) talaga ako. Until nag
Rubi
siya, di ko talaga siya gusto. But here, talagang na-in love ako sa kanya. Sobrang galing pala talaga ng batang ito", he shared.
That might sound a promo mechanism to most of you but Quitain justified further: "Dalawa yung roles niya dito. As what we always do to differentiate one from the other, kailangan ibahin yung physical na anyo. Mag wig, lagyan ng mole, iba yung damit ng isa, and all that. We don't need to do that here for Angelika. She can very much manage to let you feel the difference between the two with just her mannerisms; stroke ng kamay, pagtingin, pag iyak, pagsalita. Walang make-up o prosthetics man na kailangan."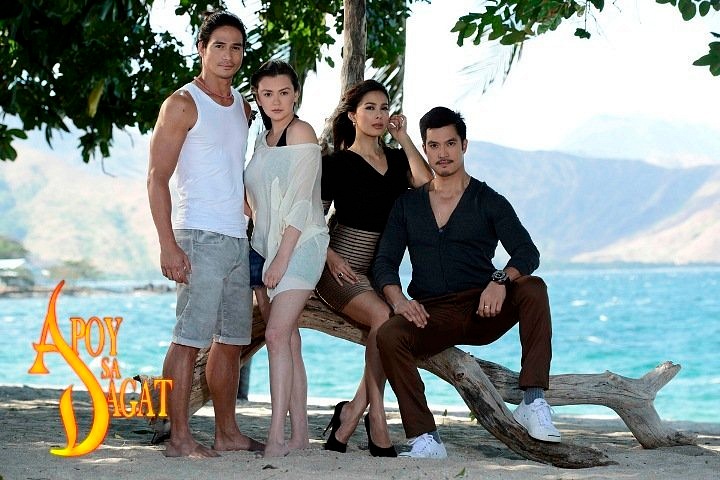 The international appeal and when fire meets water
So which part is the creative team challenged? "We want to make Apoy Sa Dagat follow the footsteps of other ABS-CBN drama series who are shown in other countries", Reyes explained. Premiered by the Kristine Hermosa-Jericho Rosales starrer Pangako Sa'yo which is dubbed to another Asian dialect and shown in Malaysia, several other drama series are also being shown internationally. Piolo Pascual and Angel Locsin's Lobo is dubbed in Thai with the English title She Wolf: The Last Sentinel while another Kristine Hermosa and Jericho Rosales soap, "Sanay' Wala Ng Wakas", will be shown in Malaysia and also in South Africa.
But if there's really a top and critical goal for the creative team, it's about bringing a complex storyline as Apoy sa Dagat's to be appreciated by the different classes of our society. "Gusto kung kunin yung taste ng mga taong nanood ng American series and at the same time, I also don't wanna isolate the masses. It's a constant battle between respecting the story as it is or kung ima-masa ba natin 'ito. We maintained the complexity of the plot and at the same time applied a simple approach when it comes to the script. I hope, magugustuhan nila", the director divulged.
Ironically, the two earthly substances in the title, fire and water, can never be combined but Apoy sa Dagat aims to combine the elements of a story that keep those with the discriminating taste glued but not scare the masses away. After a very refreshing 2-hour talk with its creative people, I can say Apoy sa Dagat may just let fire and water meet.