The Miss Universe crown cometh almost, again
12:31 PM
Janine gave a stellar performance that turned her worst critics to major fans


The Philippines, for the third consecutive year now, came very close to conquering the Universe's most sought-after beauty title. This time, it is even closer as Janine Tugonon took the First Runner-Up title after competing with everything a Miss Universe winner needs except fate.
I admit that Janine Tugonon is no more than a sentimental favorite for me. She is not in my Top 16 list during the preliminaries (You can check Lifestyle Hub's Top 16 Prediction here) but with the choices of the Miss Universe Organization and the online votes in play, I know she has a huge chance to be a finalist. Luck ushered her way and I was ecstatic when she was called 10th during the Top 16 announcement.
In a field composed mostly of Caucasian beauties, Janine sailed through the swimsuit contest like it was her against the world. No black participant made it to the Top 16 and she, together with Miss India, are the only Asian delegates. Janine sparkled with her bronzed skin tone. Together with her "cobra walk", she used her true Malay color as an advantage. Like in the previous years where Shamcey was not in my finalist pick, Janine proved me wrong again. She wowed me and she breezed through the Top 10.
Perhaps, the most tension-filled portion of the pageant for me was the announcement of the Top 10 where Janine was called last. The organizers used again the cheering energies of the Filipino community in Las Vegas to create a suspense-thrilled show. With 8 finalists announced and 2 spots left, my hopes were almost crashed when crowd favorite and could be judges' favorite Miss Mexico (there were 2 Mexican judges) was still not called. I thought it was between Miss Mexico, Janine, and two early front-runners Misses Croatia and Kosovo. Miss Mexico was called 9th and then Janine completed the Top 10.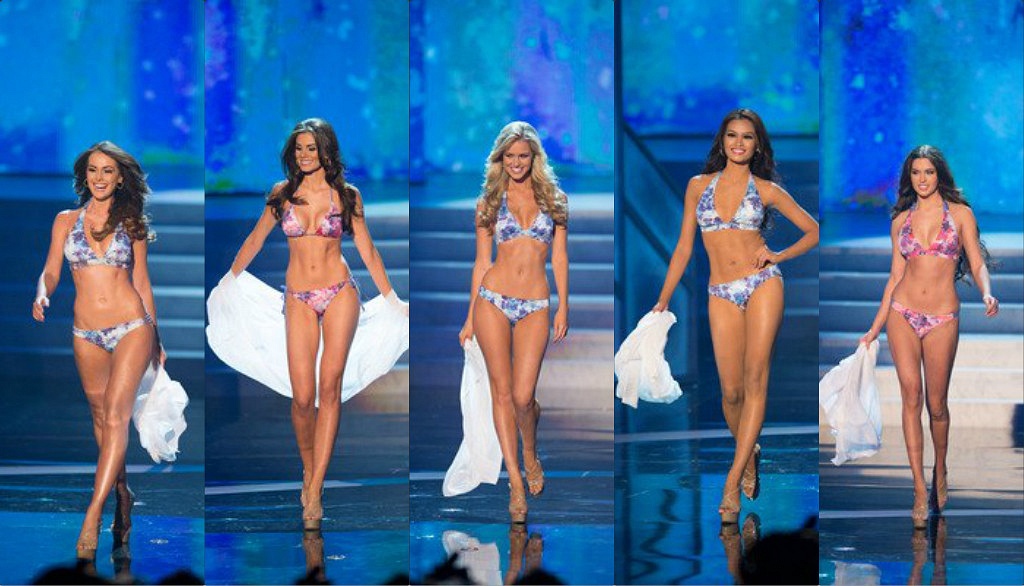 My top 5 for the Swimsuit contest: (1) Venezuela, (2) Brazil, (3) Australia
(4) Philippines and (5) Russia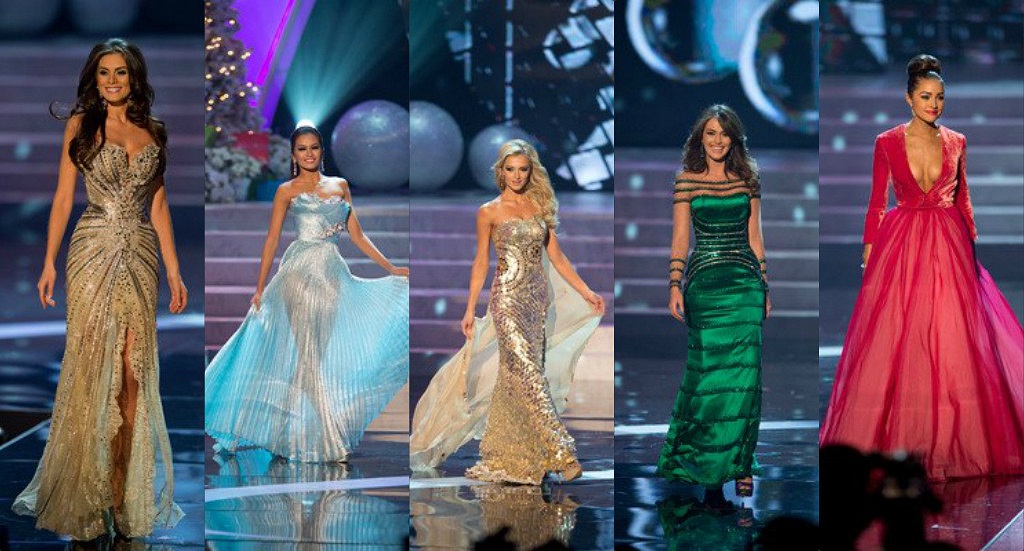 My top 5 for the Gown contest: (1) Brazil (2) Philippines (3) South Africa
(4) Venezuela and (5) USA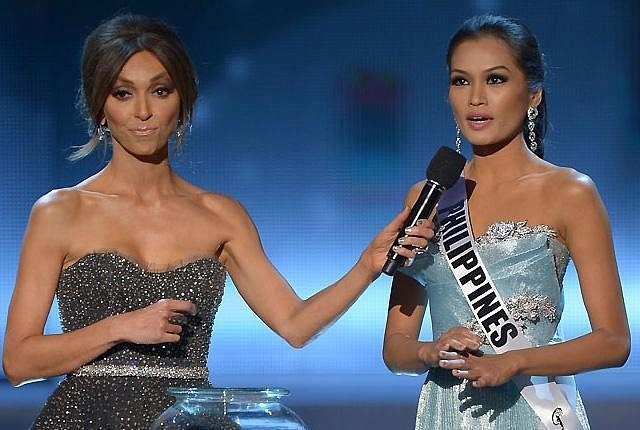 Janine Tugonon answering her final question with host Julianne Rancic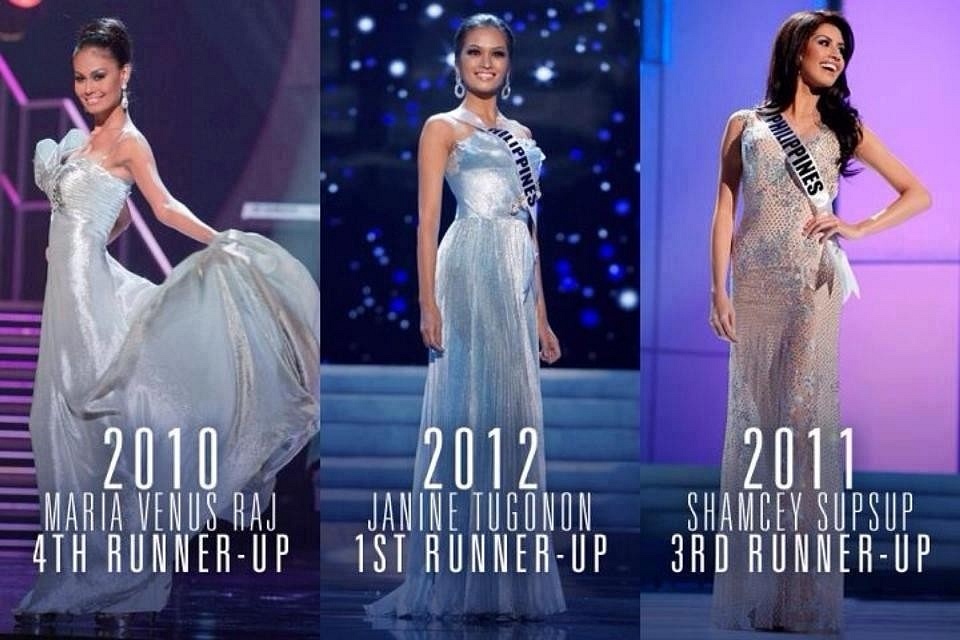 One of the very reasons why Janine scored low in my personal preliminary ranking is the poor evening gown choice. As most of the girls wore beaded and leg-bearing designs, Janine's dress came lackluster. But this made me all the more impressed with Janine as she scourged for ways to maximize the gown provided to her. Came finals night, she stretched her evening gown at her starting pose, spreading the material and making it more transparent which revealed her figure. She moved her hips even more to let her skirt fly as she glided and she ended her evening gown walk with a queenly left arm lift. This is when you'll say Janine meant business.
Though when she stood in stationary, she did not stand out in a field of glittering gowns but I was sure Janine will enter the Top 5. And there she goes, called second during the Final 5 announcement. Called first was Venezuela's Irene Esser, followed by Janine, and Australia's Renae Ayris was called third. My personal favorite was Melinda Bam of South Africa but when Janine entered the Top 5, I silently wished for South Africa not to be included in the final cut. She could have been a serious threat. With an upper hand on the judges and also on live audience support, I was also wishing for Miss Mexico to not make it to the final selection. It was granted. USA's Olivia Culpo was called 4th and Brazil's Gabriela Markus completed the list.
To be honest, I was unsure of Janine's articulateness. I was there live when she was crowned Binibining Pilipinas Universe in Araneta Colesium and I was not really happy with her answer. My spirit dampened further when I heard her introduce herself in the preliminary contest last week. She said "Janine Tugonon, twenty-two, Philippines" but what I heard was "Pi-li-pens". Earlier on the final show, her recorded voice over sounded better. This is when I realized the attention might shift to Miss USA. The American was not really spectacular during the swimsuit and the evening gown segments but 'missossologists' label her as an outstanding speaker. Her spontaneity was her key in winning Miss USA. With another native English speaker, Miss Australia, in the Top 5, I thought Janine was in trouble.
Miss Venezuela attempted to speak in English but as how I was extremely mesmerized by her beauty, that was how I was extremely disgusted by her answer. I could not even explain further as I didn't understand a word that she said. Miss USA, meanwhile, started strong in blurting out a beauty queen-ish line about our life experiences. "
I'd like to start off by saying that every experience no matter what it is, good or bad, you'll learn from it", she said. B
ut with her attempt to make her answer more personalized and conversational, her lines appeared to be in conflict with each other. "But something that I've done I've regretted is probably picking up on my siblings growing up because you appreciate them so much as you grow older. But I don't regret them", she added. This might be a simple case of wrong choice of words or the lack of it but I think Olivia just wanted to say she regrets fighting with them but she don't regret having her siblings part of her life.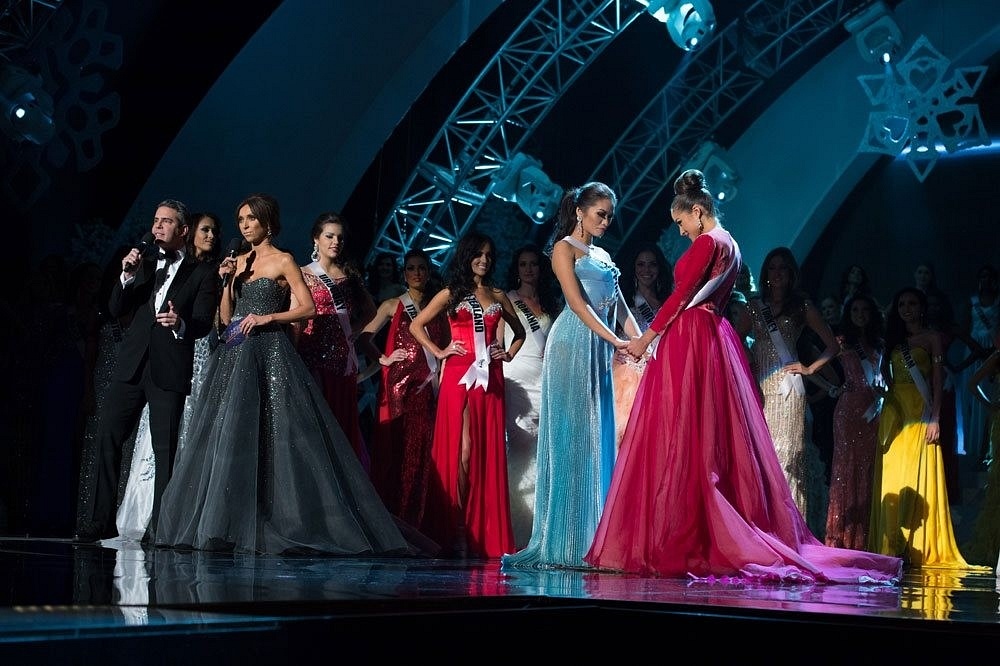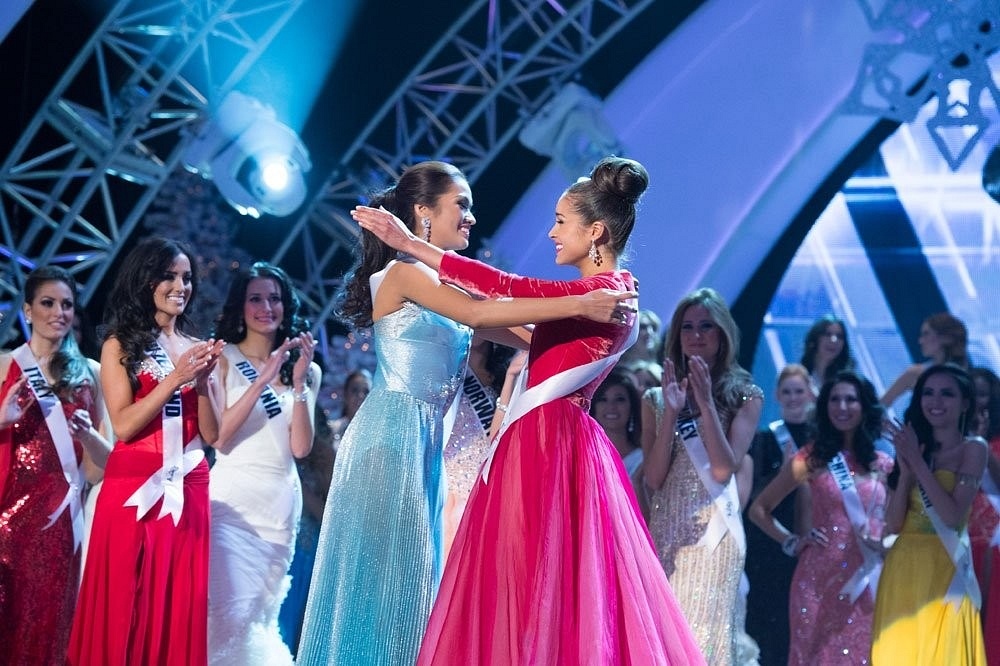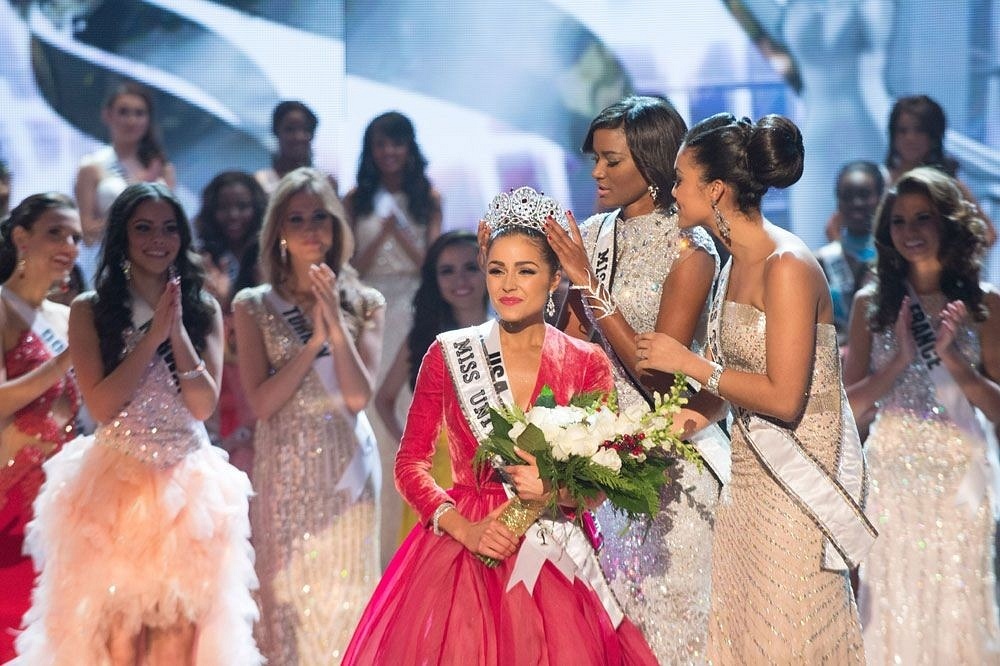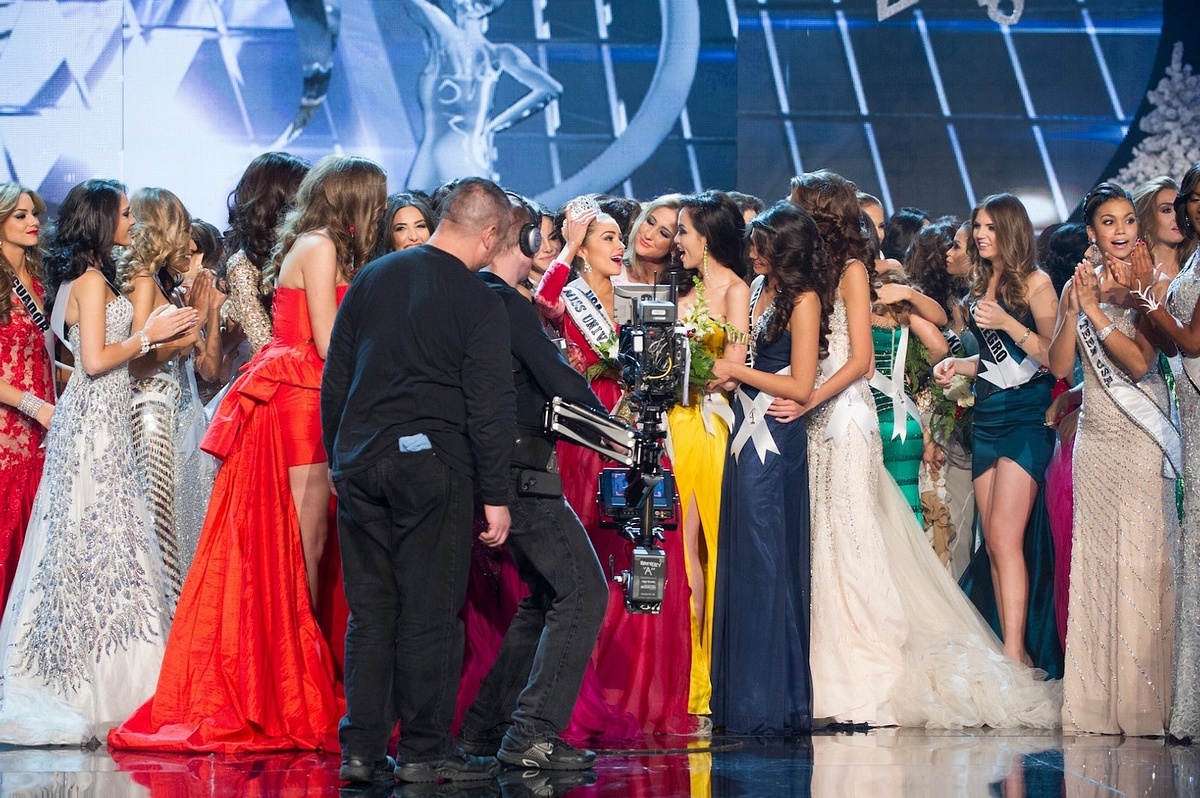 If Venezuela faltered and Brazil and USA gave an "OK" answer, Renae Ayris of Australia and her organization of thoughts should rank her second in the Final Q & A. Asked about her reactions if forced to lose weight for a modelling job, Renae said it wouldn't be necessary as what's important is for the woman to feel good about herself regardless if by standards she is fat or thin.
But without a doubt, the best answer of the night was Janine's and again, she proved me wrong for doubting her outspokenness. Asked by former America's Next Top Model (ANTM) judge Nigel Barker if English language should be a prerequisite to be Miss Universe, Janine impressed the world with her response: "For me being Miss Universe is not about knowing how to speak a specific language. It is about being able to influence and inspire other people. So whatever language you have as long as your heart is deserving and you have a strong mind to show to people, then you can be Miss Universe."
It could be accounted as the best answer in the final question by any contestant in the last 3 stagings of the Miss Universe. After Janine said that, I was able to imagine her being the third Filipina Miss Universe. My final ranking could have been Janine for the Miss Universe title, Miss USA as First Runner-Up, Miss Australia as Second Runner-Up, Miss Brazil as Third Runner-Up, and Miss Venezuela as Fourth Runner-Up. Although, we must not forget that the Miss Universe doesn't follow now a back-to-zero scheme in deciding the winner during the final round, nevertheless, the Q & A should severely affect judges' decision.
I think Janine was not originally at number 2 in the ranking coming into the Top 5 noting how extremely gorgeous the other 4 finalists were. I'm sure her spectacular answer raised her ranking to second and was considered by the judges.
Whether it was a fixed decision by the Miss Universe Organization to favor Miss USA for the crown or if Olivia Culpo really deserved the title, it will serve better if the world will see us gracious about the results. At least now, the whole Universe will have a strong recall of how intelligent Filipinas really are. And we owe that to Janine's stellar performance.