Greggy Santos is poised to be 'the Next Big Star'
2:43 PM
What is really the standard of a good-looking guy? Many of us, over a long period of time, crave for the
mestizo charms of Aga Muhlach, Gerald Anderson, Dingdong Dantes or the members of the Azkals while there are others who root for the greatest representations of Filipino machismo with the likes of Richard Gomez and Jericho Rosales. Some drool over the sexiness of Piolo Pascual and Derek Ramsay while many of us prefer the boy next door charms of Enchong Dee, JM de Guzman or John Lloyd Cruz. So many stereotypes and norms of our choices of leading men that adding more variety may oftentimes mean fame.
For Greggy Santos, he relies more on his capacity to act and potentials of improving his craft. His charms may fall to the mestizo category but with his toned down getup when he met online writers in Starbucks- Libis on a Friday night, Greggy is sending the message that he is taking acting seriously and not just relying on what he looks like or what he puts on his back. After all, he doesn't need to put more effort as he is naturally gifted with good looks and smartness.
"I really want this (acting)", Greggy said after being asked about his showbiz career. Greggy entered showbiz via GMA 7's reality singing show "Are You The Next Big Star?" in 2009. He finished 4th in the boys category behind Grand Winner Geoff Taylor and Runners-up Alex Castro and Jay Perillo. To recall, Francheska Farr, now a weekly performer in Party Pilipinas, is the winner in the women's contest.
After that, Greggy hosted "Living It Up" on the now defunct QTV11 which was his prize after winning in another QTV11 show, "Hired". After that, he joined Stages under the management of Audie Gemora and Carlo Orosa. He joined Star Magic later on which made him appear in several ABS-CBN shows including "Momay" and Gerald Anderson's "Budoy". A new exciting twist to his soaring career, Greggy is set to join the cast of the top-rating ABS-CBN soap, "Ina, Kapatid, Anak".
Aside from those information that I shared to you about Greggy, you might be interested to know that Greggy graduated in Ateneo de Manila University where he finished his degree in Management Economics. At 25 years old, this smarty-pants wowed me on how fluent he can express his opinions on some matters concerning his career including turning down offers for sexy indie films. "I just don't think gusto ko siya now. I will just wait for acting opportunities na lang", he shared.
With that said, I know there's a big room for Greggy Santos in our entertainment industry. Catch him soon in "Ina, Kapatid, Anak".
In white shirt and tattered jeans, Greggy talked to some online writers and he conversed well.
For a guy with great looks and the ability to speak, who needs a coat and tie.
Like his Facebook fan page by clicking on this photo.
His fan base is about to soar soon. Well, the fact alone that he has a fan group is something promising.
Photo courtesy of Greggies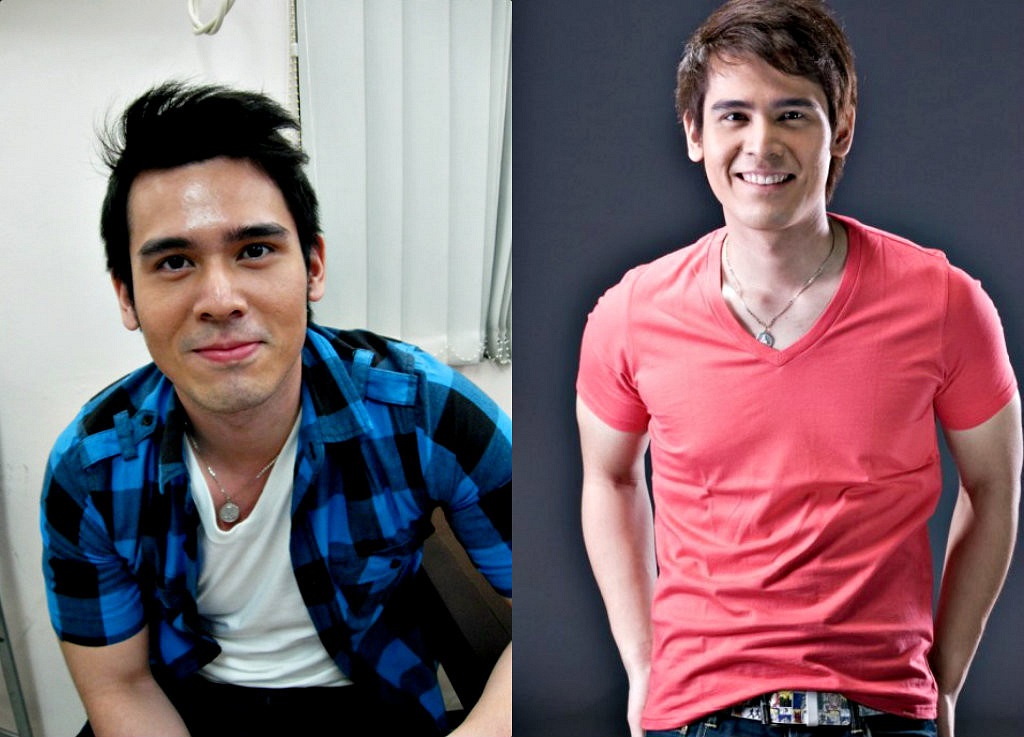 From "Are You The Next Big Star?" to "Budoy", you will see more of Greggy Santos on TV soon.
Click on the link to access his Twitter account instantly.
Photos by supermorgy.com and mykiru.ph
Here's a video I took with Greggy inviting you all to catch him in "Ina, Kapatid, Anak"