Five magical things of "Suddenly It's Magic"
11:36 PM
Twenty-four hours from Mario Maurer's guesting in Gandang Gabi Vice and #MarioMaurerOnGGV is still trending on Twitter. The interview unfortunately aired at the very moment when I was watching "Suddenly It's Magic". Yes, I opted to watch the movie only on its 4th day to avoid the long lines and I chose to watch it on the last full show to have a sort of exclusive screening experience. This is Mario Maurer we are talking about. I got to have the best mood.
But it seems like my goal of watching the movie as uninterrupted and as focused as I can is not possible. I insisted on using my movie pass at at yesterday's 10:15 PM screening in SM Mall of Asia only to find out that watching with me are around 200 people inside the theater. I was left with no choice but just to try to enjoy it.
I held my expectations low when the movie started. This is another lightweight teenybopper movie, I thought. I was just really looking forward to watch Mario Maurer's first performance under a Filipino production. But I was pleasantly surprised- big time! And so I gathered five "magical" things which helped me justify how our Cinema Evaluation Board gave it a "B".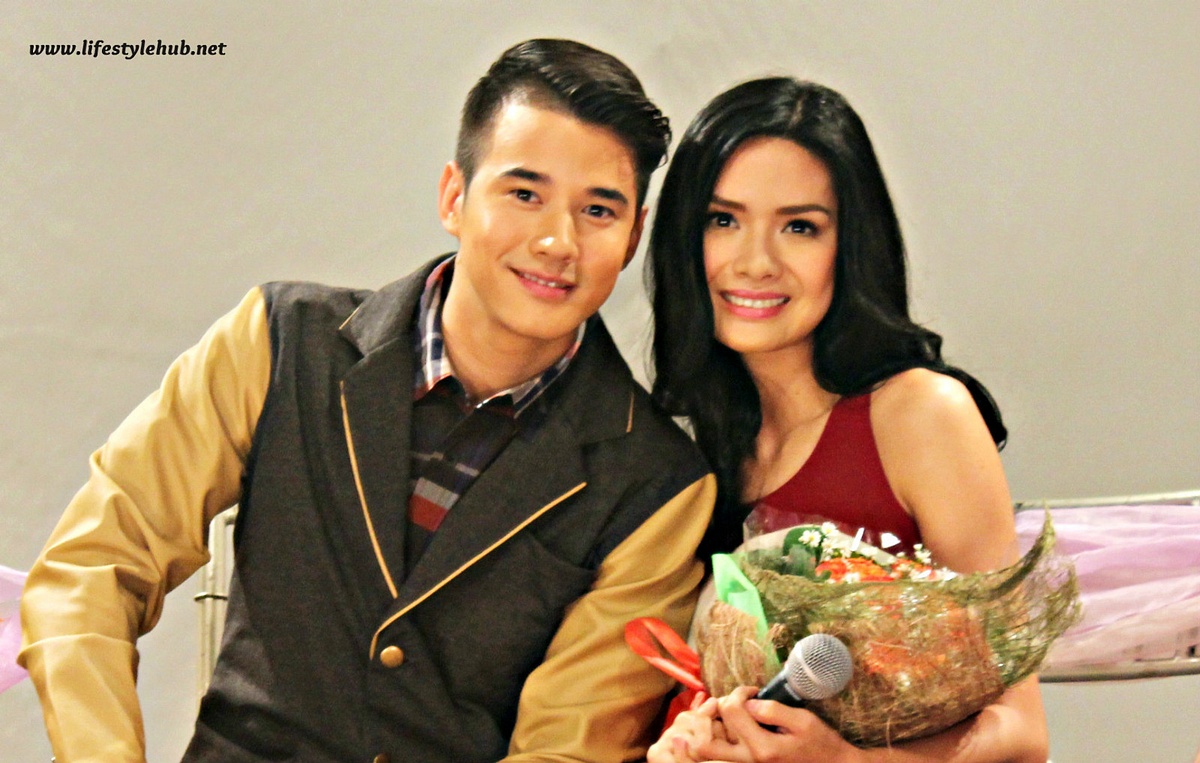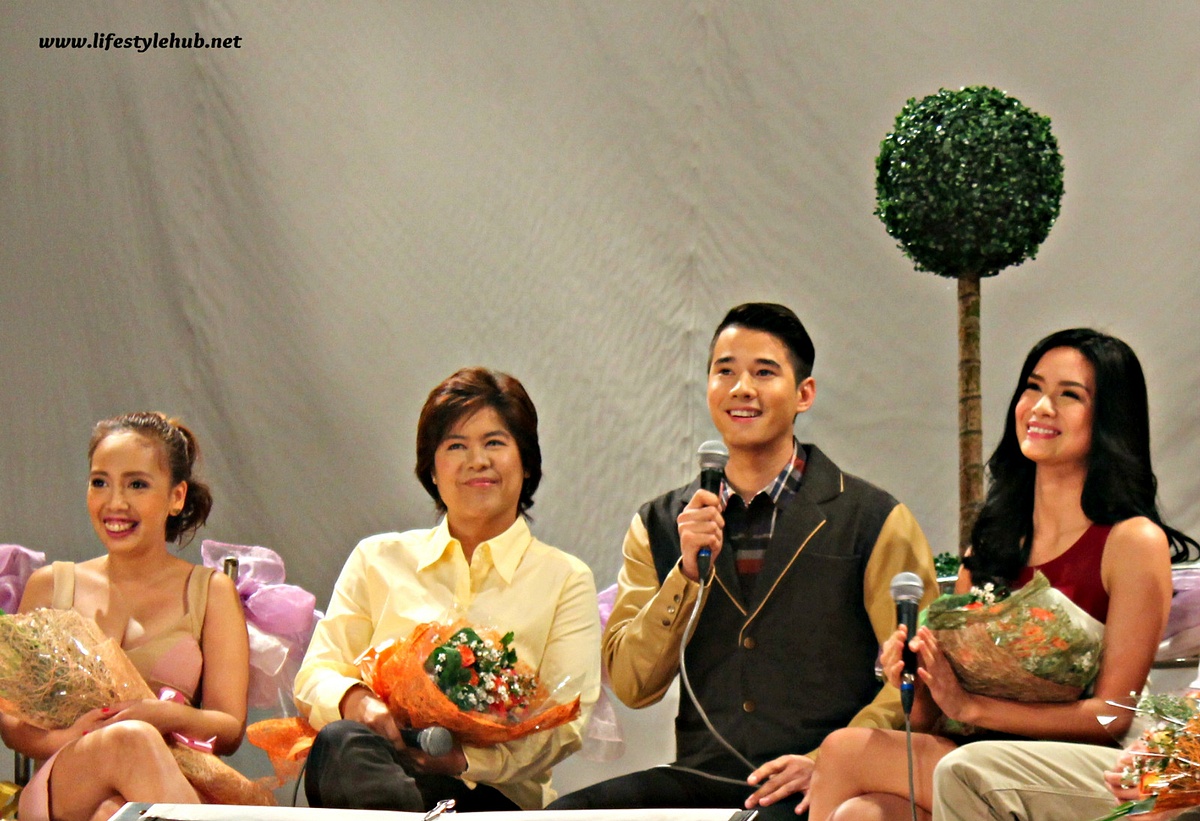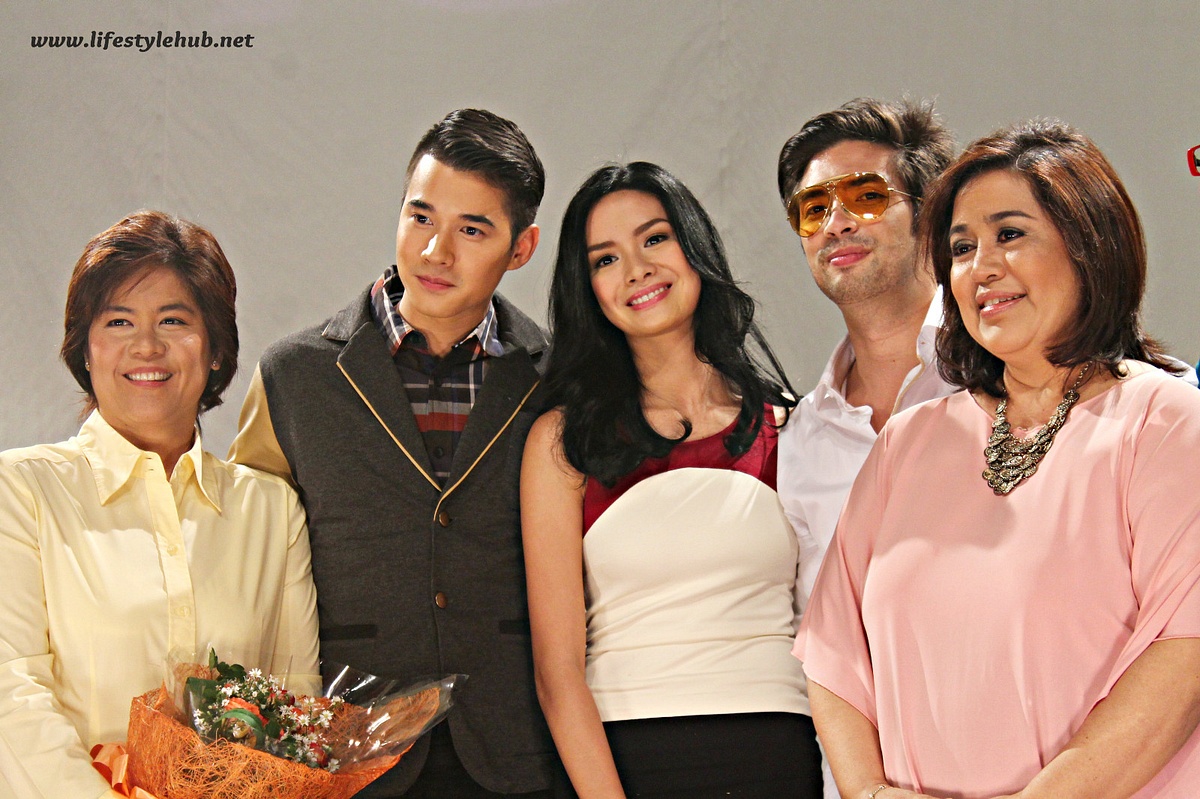 Photos were taken during Suddenly It's Magic's presscon at the Dolphy Theater in ABS-CBN last October 29.
With Mario Maurer and Erich Gonzales are Director Rory Quintos and co-stars Joross Gamboa and Ces Quesada.
(1) Thanks to Star Cinema's wise decision in choosing Marcial S. Tarnate III as the cinematographer. The shots were undeniably done in excellent taste from the baking of the cupcakes, Joey (Erich Gonzales) and Marcus's (Mario Maurer) condo in Bangkok up to the wide shots of the Paoay Church and Bangui Windmills in Ilocos and the Temples in Thailand. Erich's not overly adorned face to suit a probinsyana character glimmered and Mario's pretty face lighted up some more. If I remember it right, "My Amnesia Girl" is the best photographed romantic local comedy I've seen but "Suddenly It's Magic" can easily surpass it. And without being too technical, I believe the cinematography pushed the movie to make it to Grade B by the CEB.
(2) Sure the material is light but let's admit it, it's also risky. If I could recall, this is the second film that I ever watched with the most number of languages used. Yes, "Babel" might win as the most multi-lingual picture but Vanessa Valdez and Enrico Santos, who shared writing duties here, were brave enough to use 4 languages: Tagalog, English, Ilocano, and Thai. Skeptics might consider the integration of 4 languages a desperate move to complicate such a simple plot but I can see that it was needed in the movie and was coherent. No panic. You don't really need an interpreter as there were no rapid exchanges of not so familiar words. The writer gave us enough room to digest it before we hear another one.
(3) Maybe around 90% who went to the cinema to watch the movie had Mario Maurer in mind. No offense to Erich as she is a brilliant young actress but I am guilty of this as well. As mentioned before, I am eager to see Mario perform for a Filipino production, and of course to marvel some more on his royal cuteness but the movie gave the two actors their own shining moments. Star Cinema might have probably wasted more effort and finances to cast Mario as Erich is their talent but they didn't abuse him by giving him more limelight. No opportunities to cry their hearts out, or scream or showcase an extreme form of emotion but the two actors gave pretty decent performances here.


First video shows Mario Maurer talking about the slapping scene and touching Erich's "boobs"
while Mario shares in the second video his other experiences during the movie's filming.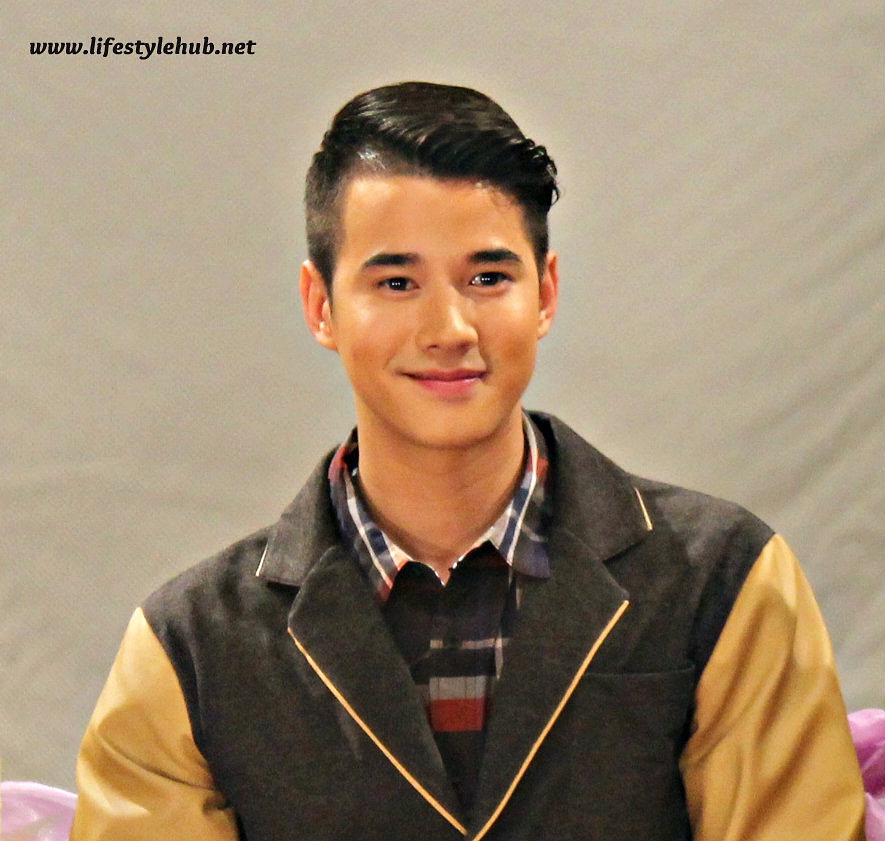 (4) Locations and production merits are proven formula to get the audience attention and "Suddenly It's Magic" also used this, extensively even. No complains though as Ilocos's tourist destinations competed with the Buddhist gems of Bangkok and both sites were equally breathtaking. In here, we'll forgive Star Cinema for making a buzz of the movie as early as March this year but only released it 8 months after. Call it cliche but the wait was worth it.
(5) As if Erich and Mario are not enough, the supporting cast also provided excellent performances. If there's an award for Best Support, Thai actress Apasiri Chantrasmi, who portrayed as Mario's mother and manager in the movie, will win hands down. Joross Gamboa is excellent here to and so is Joy Viado and the other Thai actress, Mario's assistant, Nana Dakin.
Box Office Mojo has still to post how "Suddenly It's Magic" did but I am sure it is performing well. Today is still Day 5 so you have more time to catch the flick. Do I recommend it? If you are someone who loves romantic flicks and a believer of fairy tales, then my answer is a resounding 'yes'. If you're the type who always looks for nail-biting scenes and depth, this is the time to loosen up and just let good vibes flow. I recommend you give this a try.